There's a chance, a small chance, that I may have gone over the top in last weeks preview and for that I apologise and promise to never do it again. We were immense against West Ham (or they were proper shite SHUT UP), and yet we all feared that Everton would Everton before Gylfi sent Tory Wilshire into the 28th Century to confirm the most deserved of deserved wins.
So essentially we're winning the lot now. You'd best all just learn to deal with it.
Oh…..i've gone over the top again.
But I know what you're all thinking. Yeah you. The one thinking 'Everton played well didn't they? Be typical us to get rolled over down south wouldn't it?'. Well you're thinking exactly the same as all of us. We've seen it before. Everton doing good, it would be very typical for us to do the exact opposite now and get bullied around by far far far lesser players at ground everyone hates.
Oh it's Brighton.
Brighton and Hove Albion are managed by Harry Potter these days. So let's get things straight right off. If you're in Gryffindor you are a Tory. Slytherin are Kopites. Hufflepuff sounds like a Lidl own brand Wotsit. Ravenclaw are the ones mate.
As for Brighton, somehow we are above them in the league which is a bit of a shock to me as somebody told me they'd started well. Clearly not. Last time out they lost to Aston Villa. Hey, we've all been there. But really this sounds like a good game for us to actually try and win away from home.
In nets Matty Ryan, is pretty decent. Australian though, so you know…
At the back it seems they lose most when Shane Duffy plays. They spent an absurd amount of money on Adam Webster who is average. And Lewis Dunk is half decent actually. Another we probably should have got instead of Keane. KOOOEEEEMMAAAANNNNNWALSSHHHHH. Fullbacks probably too.
In midfield, names like Pascal Groß and Davy Pröpper gave me the chance to do fancy letters on my Mac, but they are surrounded by Dale Stephens and Solly March. Yves Bissouma has looked decent whenever i've seen him though. He's the bully I was speaking about. He'd kill Tom Davies, god bless him.
Forwards include Neal Maupay who I liked at Brentford and wondered how he'd do in the big league. And he's done ok. Slotted a couple here and there, and kept old man Murray out a lot this season. Murray will score from a set piece, probably a corner though. Obviously.
Another player to keep an eye on is Leandro Trossard. Talented little player who hasn't quite settled yet.
They're not that good this lot.
2-1 to them though.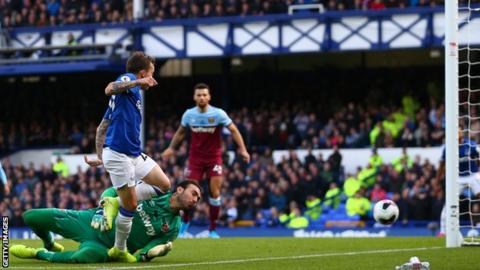 I mean why didn't he just shoot when Walcott popped him through?! Because he's Brazilian that's why. An absolutely ridiculous goal that I knew he was capable of and now I want more. He is so tiny.
Few questions around Everton's line up this weekend.
Not in nets though. Pickford.
Questions at the back though. Mina hurt himself late on against WHAM, but someone has woke him up before we go go south, and he seemed to have trained yesterday. Or today. Or the other day. Fingers crossed he makes it as he's been pretty good this season. And it means Holgate otherwise. Which isn't as good is it?
Full back questions too. For me, Coleman simply does not walk back in to this team. Sidibé (fancy letter), is a proper footballer. There's a reason he's been linked with a move to Milan this week, and Coleman has not. For all his heart, passion and love for Everton, the Frenchman offers more. Sorry if you disagree. Digne at left back though. Obviously.
Midfield raises questions too. Delph is back apparently. Schneiderlin too. But would you really swap out Gomes or Davies for either of them? After how well they did? Would be a bit of a risk for sure.
Similar in attack. Theo Walcott played his best game in about 14 years last Saturday, would you take him out?
Would you take Iwobi out? Who despite aiming at the keeper, played decent as the 10. Him and Sigurdsson offer totally different things in that role, but somehow we'd need all of those things from one of them.
Do we play a striker, or stick with Richarlison being a pain in the arse up there?
Lots and lots of questions for Silva. He would be very very brave to change the team from the West Ham game. Very brave. Or very stupid. Fortune favours the brave. But stupid is as stupid does.
Marco Silva is not out of any woods yet after one decent game. Brighton away is a game Everton should win every single time. But we don't. A loss here and we are directly back to where we were 2 weeks ago. Pressure, selection questions, zonal marking questions, QUESTIONS. I can't be bothered with it again.
So let's end with a positive. Let's keep that awesome performance going against arguably a worse team. Another win here eases everything. We can start to look forward again.
So do these softies, and do them well. OH AND IT'S MY BIRTHDAY ON SATURDAY AND ALL I WANT IS A WIN YOU SHITS.
UTFT!
COYB!!