For actual fucks sake.
I realised a long time ago we won't ever win the league cup, but would it be that much to ask to at least try. I know we are all pretty bummed about going out, but in hindsight, looking at that line up, we were always going to get done. 90% of that team nearly got us relegated last season. We know they are shit.
But, there are only so many times we can say we never want to see Tom Davies, Michael Keane, and the rest ever again in an Everton shirt. They still linger about, and are the proof that even if you're Lampard out right now, the job he has is massive. And would be even bigger for any new manager coming in.
But….4-1 at Bournemouth is fucking embarrassing.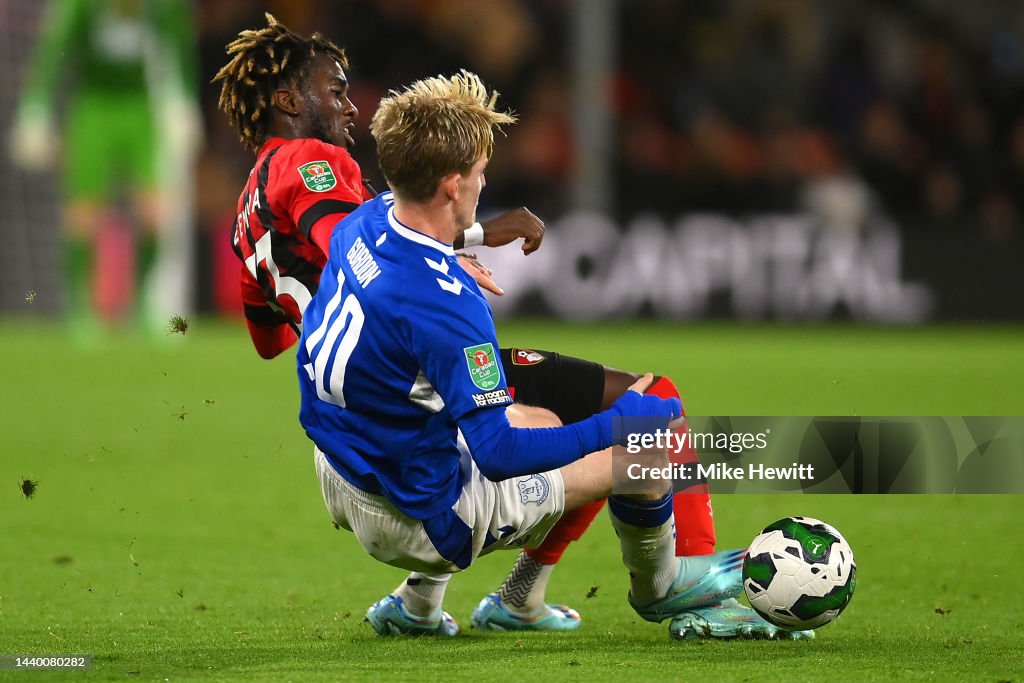 Fucks sake. I hate using images with a water mark on, but that's the only one i could find of that challenge. If you can call it that. I don't know what's up with Anthony Gordon but fuck me he needs taking down a peg or 8. The Chelsea thing over the summer has clearly made him think he's made it already. He has not. And may never. 7 bookings in 14 games is not showing passion. It's being a fucking twat. And that should have been red on Tuesday.
I'd honestly drop him from the entire squad until that shitty bleach washes out of his hair and he embraces what he is. A ginger promising young player. And no more. But our attacking options are so crap he has to be there in some form.
But….as always, I try to find some positives. Even from that shit show. Vinagre offered a glimpse of decent delivery, even though his defending was questionable. Seeing Patterson waltz through their entire team was beautiful if short lived as his defending was also pretty grim.
I think that might be the only two I can find. Oh and we get to have another go at these this weekend.
Oh….and LOL at Tom Davies' 'shot'. I think it just landed on Mars just now.
Bournemouth away. Again. Before the World Cup ludicrously starts next week.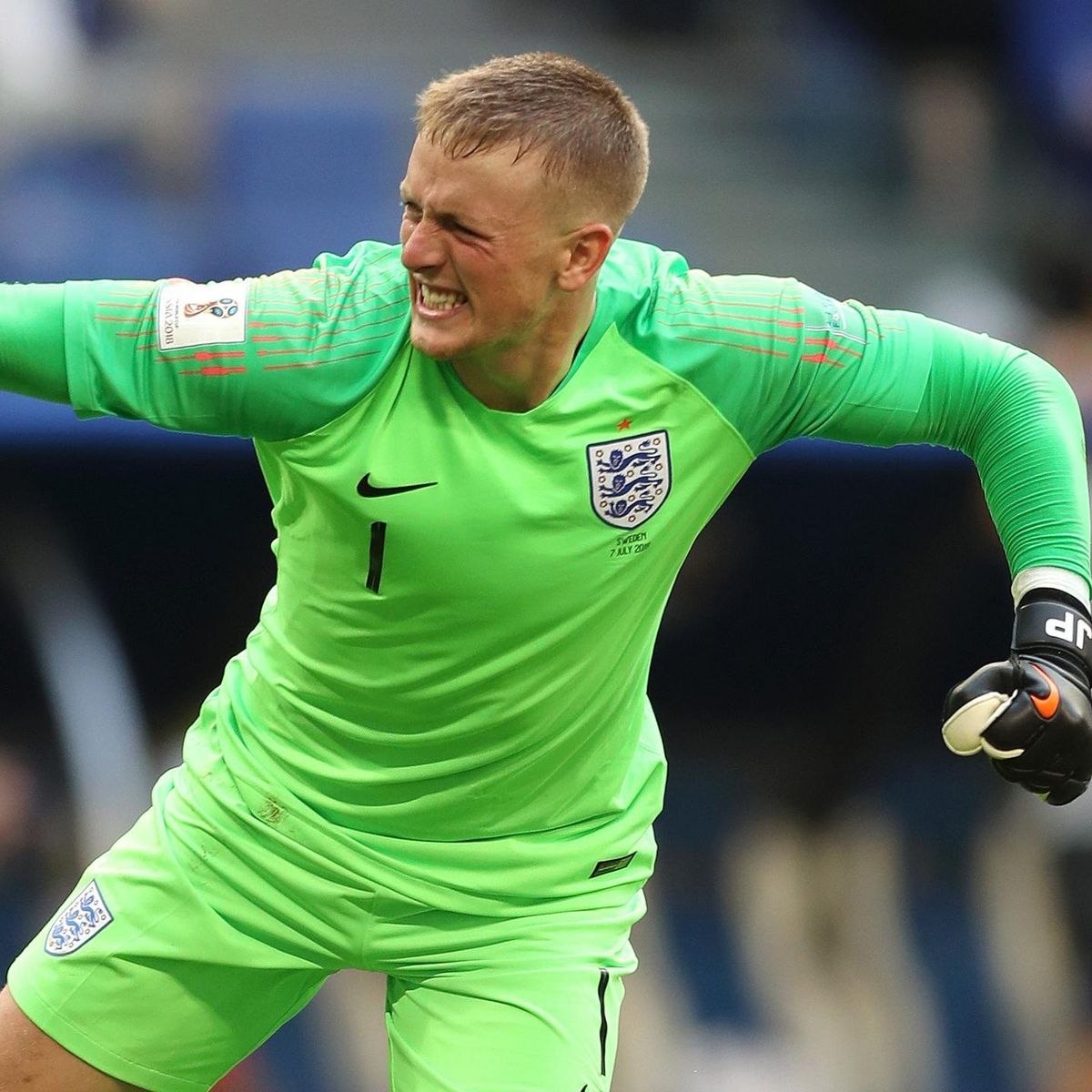 Christ, that photo is massive. I'm having a photo nightmare here.
Better than losing 4-1 at Bournemouth though.
It was fucking laughable. This is Bournemouth. I mean I know we have a history of madness at that ground, remember that 3-3 there? And Junior Stanislas scores past us on the regs, but literally nobody else. But come on, it's Bournemouth.
As a place I actually quite like the town. Pisses all over the nearby Southampton as a place to visit, and last time I was there I saw Busted perform! That's what I went to school for. But the football club is annoying. Never should be this high in the leagues, but here they are.
Gary O'Neill is doing a cracking job, no idea why/if he's got the full time job there yet, but seems likely. They made a few changes for the game in the week too, compared to their normal line up which is something like this:
Travers usually in nets. I believe he's been there a while and is a decent lower keeper.
At the back usually a 4, with Fredricks and Smith (not me) at full back and Sensei (Mr Miyagi) and Mapham at centre back. Absolute shite….bet we don't have more than 3 shots against them.
In the middle a 4 of Lerma, Billing, Cook and the non Rangers Tavernier. Shite. Bet they cause us no end of trouble.
Up top that lump Keifer Moore, and ex redshite Solenke. So so so shit. They will both score.
On the bench, all those quick lads that ripped us apart on Tuesday. Really like that Jadon Anthony and Lowe. We should buy both. We won't though of course.
Another 3-3 draw this.
And then Everton.
Bloody Everton.
We will pay the price if we are fussy supporters. Especially with this lot.
Pretty easy to guess the line up. And hard to see any of the Tuesday gang sticking around other than Patterson and Maupay, the latter out of necessity as he's our only striker again….somehow.
Pickford in nets.
Patterson, Coady, Tarks (should be on the plane) and Myko.
Onana and Gana
Iwobi
McNeil Gray
Maupay
I'd be amazed if it's not that. Maybe Gordon instead of McNeil but that makes little to no difference. Our forward options are so so so so so so so so shit. But yet Tommy Cannon gets no look in a real game. Weird. Rondon on the bench again. Sound.
I'll keep saying it, and please don't think I believe the manager to be faultless, but I do not see any point booting him out, even if we lose this. It would just be another short term fix, and we'll be having these same chat same time next year.
Just think about the bigger picture, how much it would cost to bin off yet another manager…and his team.
Everton are still a team with players from the previous 5 managers lingering in the squad. Sack Lampard you then have to add his new players the new manager will be stuck with.
It's pointless.
Anyway, after this game we can forget about all the heartache we suffer on the regs, and enjoy a summer of elite international football with BBQs and parties.
Oh no. It's fucking freezing in November, and we'll be watching a World Cup with Mince Pies and blankets. Fucking hell, what even is football anymore?!
But good luck to our lads who made the cut and are going. I hope they all come back happy and perform well.
Just win Saturday Everton so we can all be as happy as Idrissa and Amadou.
COYB!!!!
UTFT!!!