Very very wind hahaha Evertonians.
Yes yes, there's a chance this game might not even happen because of Storm Eunice (remember Eunice Huthart from Gladiators?). But here's a match preview anyway.
Last time out we snotted Leeds, who were a bit shit really despite a couple of long distance thunder bastards, but don't let that take away how well Everton actually played. Because we really showed how well we can play and how good this team can be. All the more annoying we stuck with you know who for so long. What a massive waste of time.
But win and win well we did. And we had to. We really had to. We are still by no means safe but how good was it to get a glimpse of us being good again? It was really good. If your Alex Iwobi's and your Jonjo Kenny's are getting rave reviews then you know/hope things are on the turn for us. Finally.
It is still Everton though. So we must proceed with caution. Our away form has been ropey to say the least and despite the positive feeling going round we aren't where we want to be yet. New boss Frank Lampard will be very aware of this too. It is however, really nice to feel good about Everton. So thanks.
A trip to the south coast awaits. My former homeland for a good many years. It's a shithole.
However, their footy team has gone decent again all of a sudden. Southampton are no longer your typical yo-yo team, well not in the traditional sense. Their form however, is very very yo-yo. They're either getting dicked 9-0 or pulling off decent results and performances against some of the league's more decent sides.
Manager Ralph Hasselhoff, I think that's his name, also flirts with leaving them all the time while never really being linked with any open jobs. They just seem happy to plod along. I was thinking they'd stopped selling their better players off too. They managed to keep hold of free kick merchant James Ward-Prowse last summer however, I've just remembered they sold Danny Ings from out of nowhere and for no reason at all. They're an odd side for sure.
They are in some decent form at the minute though. Just coming off a draw at Old Trafford where they should have won. But even our fat ex-manager managed that feat so it ain't all that.
Fraser Forster starts in goal again for them these days. He's a good keeper who could have been a great keeper. I'm not sure why Saints tried other keepers for a while but amused they've ended up back with him.
At the back, Salisu and Bednarek are a decent centre back pairing, as are Walker-Peters and that French bloke whose name I can't place at full back.
Look. Just don't give away any free kicks within about 35 yards, and Ward-Prowse won't do much else. He is however, lethal with those free kicks. He partners Romeu who they adore down there. With Armstrong and Moroccan lad whose name i'm not even going to attempt to spell on the wings.
Up top Che Adams and on loan from Chelsea and will be ours if Lampard wants him in the summer Broja making a decent front 2.
Other players of theirs include Theo Walcott….lol, Adam Armstrong and Shane Long. You know, typical Saints players.
You can see why and how their form is so random at times.
3-3 wind assisted draw this.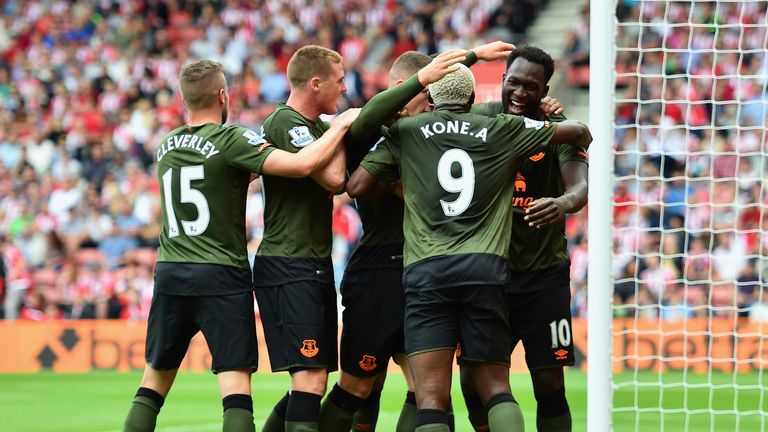 God I loved that green kit.
Anyway, we're at the point where our injured players are slowly but surely coming back. Added to our new signings, our squad depth is now actually ok. Not great. But ok. We are still without Godfrey, Mina and Doucoure who are big misses for us but our attacking options are numerous. And difficult to choose from.
But that's Lampard's job. The likes of DCL coming back, Dele Alli on the bench, Alex Iwobi apparently not being doghsit anymore, Anthony Gordon becoming updroppable, Richarlision hitting form. Sadly Demarai Grey remains out for this game which is sad because we don't have anyone quite like him.
Pickford will start in nets. The clean sheet last week will do him the world of good even though he was basically beaten from 45 yards out twice.
At the back, limited options at centre back meaning the pair that give us the actual fear Keane and Holgate get another go. They were sound last week to be fair. Left back will be interesting. Mykolenko is back from whatever he had, but JJK played bloody great at left back last week and surely would be harsh to drop him. Coleman will be right back and captain.
In the middle, let's take a minute to laugh at Man United for not playing Van Der Beek who clearly is the exact midfielder they are crying out for. But he's ours for now at least, and I hope a lot longer. He is class and really loves the chance we've given him. Him alongside Allan looks tasty and solid.
They were flanked by Gordon and Iwobi last week, and fitness permitting there's no reason to change them. It feels harsh on the likes of El Ghazi and Dele, but this is how it works. Play well, keep your place. And take every opportunity that comes your way even if it's off bench.
Richarlison and DCL up top obviously, even though Rondon nearly scored the greatest goal of all time last week.
The Toffee Blues.
Tricky tricky away this. And even trickier with the weather conditions being grim as fuck. Make no mistake though, we still need a lot more points. As fun as our home games have been under the new boss, he has seen first hand how Everton shit themselves any time we concede or get put under an ounce of pressure. And i'm sure he's been working on fixing it.
Well you'd hope so wouldn't you!? I'm sure he has. Right? He has hasn't he?! FRAAAAAAANKKKK
COYB!!!!
UTFT!!!!!