Bump.
And we're back down to earth.
Well, it was never going to be easy was it?! We are Everton after all aren't we?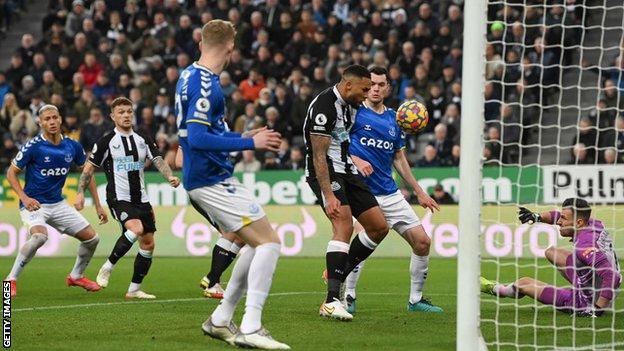 Amongst all the annoying things that happened in that Newcastle away game, the two that annoyed me the most were that we clearly had their number until Gray got injured and even worse when Yerry Minjury went down yet again. So fucking annoying that our best defender (by a bloody mile) is made of toothpase, but yet is never injured when Colombia have a game. Funny that.
But the thing that annoyed me the most is that that Newcastle are clearly absolutely shite. Even with their new players they looked shit. They are shit. I have almost zero doubt we'd have done them had we not been forced into those early changes.
The likes of Dele, Donny, and Dom (the 3 D's) would all have been given the correct amount of minutes rather than being shoe horned into a team with no shape at all. DCL not even getting any game time, which actually may have been better for him.
But overall, the sad thing was an Everton we've seen so many time over recent weeks…..months…..fuck it….years was there for all to see again. The one that concedes a single goal and then goes on to invite the opposition to score a load more without even trying. Usually ending in a striker who hasn't scored for 4 years slotting, but this time it was the shortest man on the pitch scoring his first goal in 2 years since he last scored against us…..with a header. Everton FC.
Don't even get me started on a centre back partnership of Michael Keane and Mason Holgate from this point forwards either. One who is as fragile as yer ma's posh plates, and the other one so cocky but has literally no reason to be. Both absolutely shit.
So who fancies some of that then? Oh it's Leeds United and their insane manager.
That 2-2 at Elland Road earlier this season was a boss away. The world's smallest crampest concourse in a stadium completely ridden with COVID and a game we really should have won. We didn't though and. I got absolutely drenched on my walk back to my car. I really should have known what was to come this season.
Leeds currently sit 15th in the league, one place above us as we both have fucking awful seasons. Unlike us, they've stuck with their manager, and you can understand why. I know he looks a bit mental, and sometimes the way he makes his teams play is laughable, but he has done well there. I just wonder how long they'll stick with him. Similar to us, they've been without their better players for a lot of the season, the likes or Tory Bamford and Kalvin Phillips have been massive losses to them. Thankfully they are both still out for this one too. But you know what you're getting with Leeds. They will run….a lot, which is a bit scary when you think about our lazy bastard players, but they leave themselves so open surely even we might score more than one against them? Surely?
Meslier starts in goal. Doesn't look a day over 14 him.
At the back, Cooper is out so they usually line up Dallas and that absolute chav looking Ayling at full back. With Llorente and that one who looks like a gangster Strujik in the middle.
With Koch (like a penis) and Klich in front offering almost zero protection.
Then 4 forwards, of the Jack Harrison, Rodrigo, Dan James and the bloody ace Raphina all speedy enough to make Michael Keane piss himself at the thought.
This might be a high scoring game.
8-7 to us.
Was a bit shit to see Dele Alli and even the new boss get some shit of supposed Everton fans after the midweek defeat. I guess you're gonna get that if you read shit on social media, but it really gets my goat. Imagine @shitopinion29824247894789473 ranting about Dele Alli's performance when they can't kick a ball 2 feet. But that's the world we live in.
Odds are Dele will get his first Everton start this weekend. I hope so anyway. And the same for Van Der Beek, who you see in his short cameo that he is a step or two above our existing midfielders and i'm looking forward to seeing more. We'll get to talking about who plays in defence in a minute.
Pickford in nets. Obviously. Thought he handled the Geordie boos well on Tuesday and can't be blamed for any of the goals.
Now then. The defence. We pretty much have to play a 4 because we've run out of players there. It will be Coleman, and christ knows who at left back (not Townsend again though please….nice idea….didn't work) and then the terrible twosome of Keane and Holgate who quite frankly I can't be arsed with.
We'll keep on saying it, but none of our midfielders are comfortable, or to be honest good enough to play in a 2. It has to be a 3. Even if that means we lost something somewhere else. The amount of times we get overrun by shit teams is daft. And seemingly easy to fix. Allan is great, but just does not have the legs. Gomes, well we know about him. And then you have Van Der Beek. Sadly we miss Doucoure. We always do.
Then you have to pick the forwards. DCL has been firing in training apparently and i can really see him starting. Especially after missing the full 90 in the week. Richarlison will start. And you have to stick with Gordon don't you? Because he's bloody great. But this all means no place for Dele yet. But hey, I don't pick the team.
And there we go. Fresh after being absolutely bum fucked on live TV by a Frenchman with dread in Newcastle and losing a must win game we go into another must win game. Not on TV though.
Not that I should have to write this, but my reckoning (depending what league we are for fucks sake) and cup run dependant, we have about 43-44 games left at Goodison Park. If that's not enough to the crowd going then nothing will. There's been a lot written about how important the Goodison faithful is to how well the team plays. Yes it goes two ways. Be nice if the players actually gave us something to shout about, but we can't help that. We can help what we do. We can bring banners. We can cheer them on. We cannot get on their backs if they misplace a pass. Just support them, and who knows they might just deliver.
Because fuck me, they need to deliver. We are in the deepest shit we've been in for a very very long time. Right this second, and this is horrible to say, we are the absolute worst team in the whole Premier League. But there's time to change this. There are points to be gained, and points to be dropped by our rivals.
Make some noise for the whole 90 minutes because soon you won't be able to do this at Goodison ever again. Use that thought and back the players.
COYB!!!
UTFT!!!!!!!