We're not quite there are we? I mean Everton aren't quite at the level we perhaps thought we were about 3 weeks ago when everything was smelling a bit of roses. A dodgy result at Anfield (i'm not discussing that ever again) and a struggling draw at home to Newcastle have bought me crashing down. Personally anyway. Not been arsed by football at all since the final whistle on Wednesday. Until I saw Man City make me hate football a bit more by losing to Chelsea. Idiots.
But it's not all bad. Take yourself out of it, and have a look from outside, we're only 15 (league) games into the season. And if you go back in time about 12 months we all hated Everton with an absolute passion. I don't hate Everton at the moment. So that's great. It's just going to take time for us to get where we want to get. Patience me old muckas. Patience.
Tell you who I do hate though, and that's our next opponent at Goodison Park on Monday night at an 8PM Kick Off. It's the jilted ex in football club terms, Watford FC.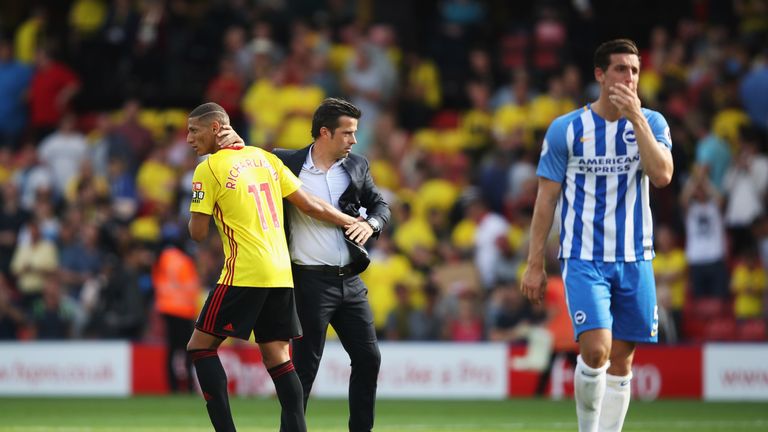 I mean get over it. Jesus Christ. It's looking extremely likely Everton are going to get fined a hefty amount for 'poaching' Marco Silva of them in the next few weeks. I mean seriously. I have some mental ex girlfriends but this is an absolute joke. Get over it and know your place. Your manager wanted to join us because we're better than you. And always have been. It's not rocket science. Where even is Watford? What even is a Watford? Why would you want to stay there?
Oh and by the way, if we ever want your manager or your best player again we'll have them. That's just the way life is. Deal with it. Get back on Tinder and find yourself another foreign manager until you get bored of them again, or they get taken by another better team, again. In fact, in your case get on Grnder.
And that's enough of that. Watford are having a great season. For them. They sit 12th right now. What a fantastic achievement for them. I wonder why their manager wanted to leave to come to us.
Let's have a look at their squad before they take me to court or attempt to fine me for putting them in their place.
In nets, Ben Foster. Good keeper. About 9 years ago when he played for Man United.
In defence, they have some absolute randoms. And Craig Cathcart. To be fair I do quite like Holebas. He's half decent. What exactly is a Mariappa? It sounds like a Mexican hip hop artist. Any good mate?
In midfield, sadly Tom Cleverley won't be playing and Doucoure will be. Doucoure is good. Not as good this season as he was last season but still. Chalobah and Will Hughes complete an energetic middle of the park which we will need to get on top of.
Up top, one of my exes Gerard Deulofeu is playing exactly the same as we know too well. Can do some phenomenal things, and then nothing for the remaining 84 minutes. Pereyra is good too. I like him. The threat of Troy Deeney coming to play for Everton appears to have dwindled thank god, as I was always afraid Koeman and Walsh were going to get desperate and get him.
They're a perfectly acceptable lower mid table Premier League team. But just need to get over themselves.
1-2 Watford. Deulofeu brace.
Oh look, someone else who jilted Watford at the very first opportunity they could. LET IT GO MATE. I can't.
That Newcastle game absolutely stank of the Huddersfield at home game didn't it? Marco Silva really needs to work out a way to break these nobhead teams that come to Goodison and sit for the draw down. I don't think Monday night will be like that.
Everton made several changes to the starting 11 last time out. Personally I could understand why. Loads of teams do this time of year, due to the amount of games coming up and that. Our just failed massively. Really feel it took something away from us. Zouma for Keane was ok, if a little harsh on Keane who has been great. Lookman for Walcott was one we'd all been hoping for, but sadly made little to know difference. I'm not going to judge Lookman on that one game but let's just say he didn't do much. And Tosun coming in for Bernard with Richarlison moving  wide again just didn't work. Sadly, I don't think Tosun has much of a future here. As much as I think he can finish, he's not Marco Silva's striker and reckon we'll get a new one soon enough.
Pickford will start in nets. Even though some people can't let 'IT' go. Weirdos.
At the back, maybe the same, maybe a change. Digne couldn't hit anything with his crosses last time out but he's been great. Mina continues to dominate and is a much better footballer than I thought.
In the middle, i'm going to be harsh, they need to chip in with more goals. We know Gana is maybe going to get 2 a season. Gomes, as sexual as he's been, needs to offer more of a threat. And Iceland's number 10 needs to do more against teams we should be snotting. Harsh.
Up top. Exactly the same. The amount of possession we have, just score more. It's that simple. And get Bernard some new long studs as his Secret Santa present yeah?
We've always been better than this lot.
Maybe it's because I know I have a busy week at work next week. Maybe it's because i'm not quite feeling festive yet. Maybe it's because it was pointed out that it was about this time last year Silva's Watford team went to shit, and I have a tiny fear. Anyway, i've been harsh on us in this preview. We're nearly there. Just have some patience.
After this game it's Man City. Which, let's be honest, is the most acceptable defeat we could ever have. So a win here is pretty vital. I like being above Man United. It's funny. So let's keep it that way.
Snot them Marco. They need putting in their place. Again.
UTFT!!!!
COYB!!