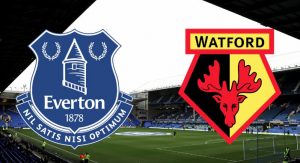 Everton face an exciting Watford side at Goodison Park in a successive floodlit match on Monday 10th December to truly kick off a horrid festive fixture package.
Everton royally pi**ed off the hierarchy at Watford 12 months ago when they came knocking for then-Watford manager Marco Silva after Ronald Koeman's sacking. Fast forward to now and you'll know that Everton finally got their man and is starting to make his presence felt in Merseyside while Watford replaced Silva with Javi Gracia. So due to that, some added emphasis has been added to the match.
For a full match preview and general topical conversation, enjoy here: http://www.comeonyoublues.com/forum/threads/everton-vs-watford-monday-10th-december-20-00-ko.682/
We've spoken to Watford Podcast – From the Rookery End to gather their thoughts on Monday's clash
1) How long have you been a Watford fan for?
25 years
2) How have you rated your season so far?
I think it's about par at the moment. We're on a bit of a bad run at the but we're mid-table and we're confident Javi can turn it around.
3) How have your new signings bedded in?
The Pozzo model is to buy players that have potential and that means it might be some time before we see them in the team on a consistent basis. But Ben Foster, who joined from West Brom, has been our best Player this season. He has been outstanding at times.
4) Who's the man to watch for Watford?
Our best outfield player this season has been Etienne Capoue. But I'd also say Roberto Pereyra, who has the ability to create something from nothing.
5) What player hasn't impressed so far and you don't want to see play this weekend?
I'd never pick an individual out that I didn't want to see. Nobody has been dreadful, but our forwards need to start showing that they can be more clinical in front of goal.
6) How are you expecting this game to play out?
I think it'll be high tempo due to the history between the two clubs the last 12 months. Definitely a few meaty challenges.
7) What are your opinions on Marco Silva?
I'll keep those to myself. They're not positive, let's just put it that way.
8) What Everton player would you like to play for Watford?
He's already played for Watford.
9) What should Everton expect from Watford in this match?
A team that presses high up the field and who have the ability to create chances. The problem is, we're not taking them at the moment.
10) What are your thoughts on Javi Gracia?
The fans are very fond of Javi. We lost our identity for a little while. He seems to have given it back to us.
11) What are your opinions on Everton's proposed move to Bramley Moore Dock?
Probably know as much about it as you know about us thinking of changing our badge – not very much. But if it benefits the fans and the community, then it can only be a good thing.
12) Build your best XI merging both Watford and Everton (I'll include mine in the published article)
From the Rookery End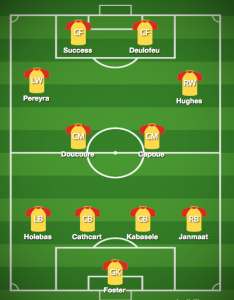 COYB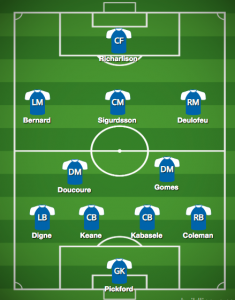 13) Evertonians know Deulofeu well, and are in agreement that he was a luxury player we couldn't afford to accommodate – what do Watford fans think of him?
It's early days. Gerry clearly has immense ability and when he runs at defenders he can be dangerous. Perhaps wants to take one too many touches, when he should play the ball quicker. But he's popular amongst the fans for sure.
14) What aspects of Everton's performances thus far have impressed you?
Well organised, good balance from back to front, and looks like you've found a gem in Andre Gomes. Work to do, much like ourselves.
15) Final score?
Everton 1-2 Watford