Preview written by forum member @Mikey Fitz
There were times during that Fifth Round game with Spurs that I thought more than once that I wouldn't be writing this preview, either because we were going to be knocked out in ludicrous fashion or because my heart would give out even if we won! Everton's 5-4 victory over Spurs was all kinds of bonkers, rivalling some of the maddest bouts in the international game such as Italy Vs Germany at Mexico 70 and Yugoslavia Vs Spain at Euro 2000. However, by hook or by crook, we eventually managed to edge it due to having the odd goal in 9, and now we can look forward to playing *checks notes*….*gulp* Manchester City in the next round!
Let's face it, if the hockey game between the United States and Russia at Lake Placid in 1980 was the "Miracle On Ice", then an Everton victory this Saturday might very well need to be named the "Miracle On Grass", because our backs are going to be up against it. It's kind of amazing that a team as good as this Manchester City side have gone somewhat under the radar occasionally, perhaps due to the fact that our lovely neighbours tend to hog all of the plaudits, but my goodness are they scary. They did us over in the League with little difficulty and not only are they looking to win the illusive "Quad" of domestic honours and European Cup, but they might actually bloody manage it too!
We of course can have a say in whether the Quadruple becomes a reality or not, but based on our last two drab outings against Chelsea and Burnley you'd have to think that it would require a near outrageous amount of good fortune to achieve it. That being said, if we do indeed find a way to prevail then it would not only put us just two wins away from ending a 26 year trophy drought, but it could also potentially give us the shot in the arm our League performances so desperately need right now. Even with a collection of scrappy 1-0 wins in the tank prior to getting thoroughly outclassed and near embarrassed by Chelsea, we certainly hadn't been playing well, and if anything it looks like the results finally started matching the performances.
I know I'm being incessantly negative here (which will no doubt cause the "Super Bloo's" to be up in arms) but if you can find it in you to be particularly positive after some of the wretched filth inflicted upon us by this Everton squad then more power to you. However, as long a shot as this Cup game is going to be, we have to think that something can happen. Normally I'd do a small bit of info on our opponents here, but that would be like explaining who Ric Flair was to a wrestling fan. They're the best, they've beaten everyone, they've got good young players like Phil Foden along with resurgent ones in their primes like John Stones and truly World Class™ ones like KDB. They are a beast, the footballing equivalent of a boss character in a Dark Souls game. They are the absolute business. The dogs' unmentionables
The question is, what are we going to do about it?
Well, has anyone considered religion? Maybe we could make a doll of Ederson and tie its hands behind its back? Nah, he'd probably just have a blinder and save everything with his feet and face anyway! In all seriousness, though this City side are fantastic going forward, they can sometimes be porous at the back, so if we can keep them out long enough to score one or two of our own then we might have a chance. There's no doubt that our defence is going to have to be beyond the old cliché of "rock solid" if we're to have a prayer of winning. Setting up as the away side and trying to poach might be the best technique to employ, although even that doesn't seem to work sometimes.
I'm not going to join in on the pile on for poor Alex Iwobi, as I probably am generally less down on him as everyone else seems to be. When he's "on" he can be a very good player, but when he's "off" he can make you want to head butt a billy goat. Dominic Calvert-Lewin probably should have bagged a few against Burnley, but his attitude is always first class so the thought of him bouncing back and playing a blinder come Saturday is not out of the question. I think it goes without saying that I think we should pick the strongest side we have (whatever that actually is right now), and I would honestly prioritise the Cup over the League going forward if we're able to win this one.
I do have to ponder about what's keeping Josh King from getting more minutes than he's had, especially as it's not like the incumbents have been tearing it up. There's the old adage that we don't get to see what happens in training, but I do wonder sometimes just how bad someone's training performances actually have to be in order to stop them getting a chance in such a situation. It's like how Beni Baningame couldn't even sniff some minutes at the tail end of last season, even with our midfield being about as sharp as a sawn down butter knife most weeks. Certainly if he could start contributing more off the bench then it would be appreciated, especially as our squad depth is so shallow you wouldn't even need a pair of wellies to wade through it.
Regardless of the tactical set up and personnel, I think this game will be as much about mentality as anything else. Ah yes, "mentality". Is there another word in the football phrasebook that can give an Evertonian a desperate sinking feeling in the pit of their stomach more than that one? Not only have we looked bad the past couple of outings we've also looked bereft of any confidence or swagger. We've looked (and played) like a side that is easily beaten, and this Man City side eats those sorts of sides for breakfast. Heck, those sorts of sides probably don't even fill City up enough for them to even consider them as a significant breakfast. They probably have to have a bag of Bombay Mix or something in between breakfast and dinner in order to keep their energy levels up!
If we want to win this game, if the miracle is to happen, then we CANNOT be that sort of team. We can't afford to be a team that's beaten before the first note of Z Cars even plays. We have to be solid, brave and steely. We have to look down the barrel of a gun and not blink. We have to give everything. Every ounce of energy, anger, passion, hate, love and desire. We have to treat this as the Final because, if we get through it, we are tantalisingly close to ending a long running and damaging hoodoo. If we ever want to be even spoken of in the conversation of being a "Big Club" again, then we need some more silverware in the trophy cabinet.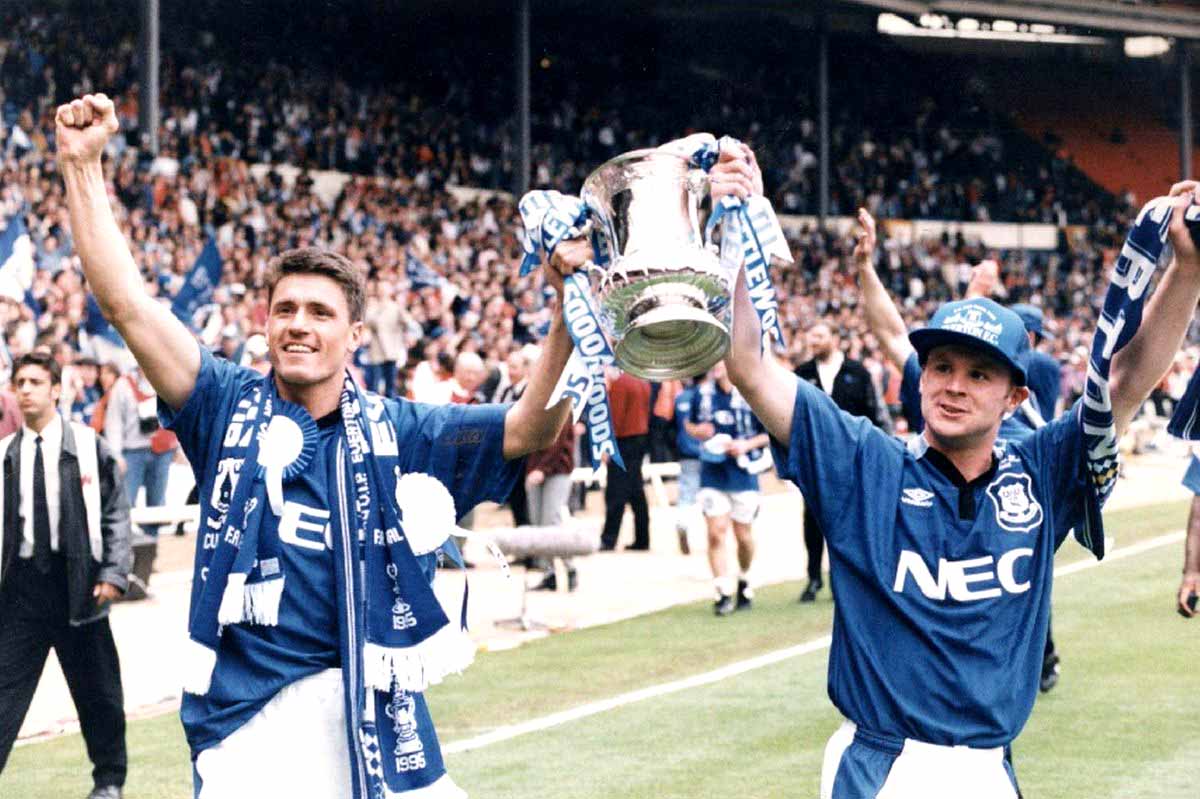 You can take your Top Four finishes, your increasingly lucrative sponsorship deals and even your new stadiums, and throw them out in the dirt because they are ultimately all worthless if the captain doesn't ever get to lift a pot. Back in the day a run to the Quarters where we lost to the eventual winners of the tournament would be see as a good Cup run, something to take some reflected glory in because the best side in the whole shindig had to go through us to get their name on the trophy. If we want Everton to be the Everton we all dream of, then that sort of scenario needs to go from being creditable to a catastrophe, and our players need to think that too.
I know there are more important things out there in the world than the result of a football match. Heck, MANY more important things. If Everton lose this game then the Earth will keep turning, the sky will still hang above us and Wee-Bey will continue to look surprised in that GIF we all love. This is just a game of togger, but it's also a chance for the Everton we all love to show itself. I'm not even talking about the rubbish one we all love ironically because it's either that or give the whole stupid thing up and start getting into Lawn Bowling or something.
No, this is a chance for us to see THAT Everton. The Everton that made us all want to be here to begin with. The Everton that we suffer through every moment of misery for in the vain hope of seeing occasionally. The Everton that stands up, is counted and can beat anyone. The Everton that went to Snake Mountain and ended over twenty years of hurt just this very season. The Everton that had its back against the world in 1994 and 1998 refused to give up and managed to avoid potential club killing relegations. The Everton that went to Wembley in 1995 with a punchers chance and gave one of the greatest sides of all-time a bloody nose. Maybe it's time we do that again on Saturday eh?
INTO THEM BLUES!!!!!!!!!!!!!!!!!!!!!!!!!!!!