EVERTON'S GONNA WIN THE CUP…BIG DAVE'S GONNA LIFT IT UP…LET'S GO….
It's January and we all seem to be happy Evertonians don't we? I can't remember being at this time in a season and being generally still over the moon. Most time we've usually had a manager sacked, been knocked out of both cups and need a couple of January signings just to make sure we're not dragged into a fight at the bottom.
This is very very nice.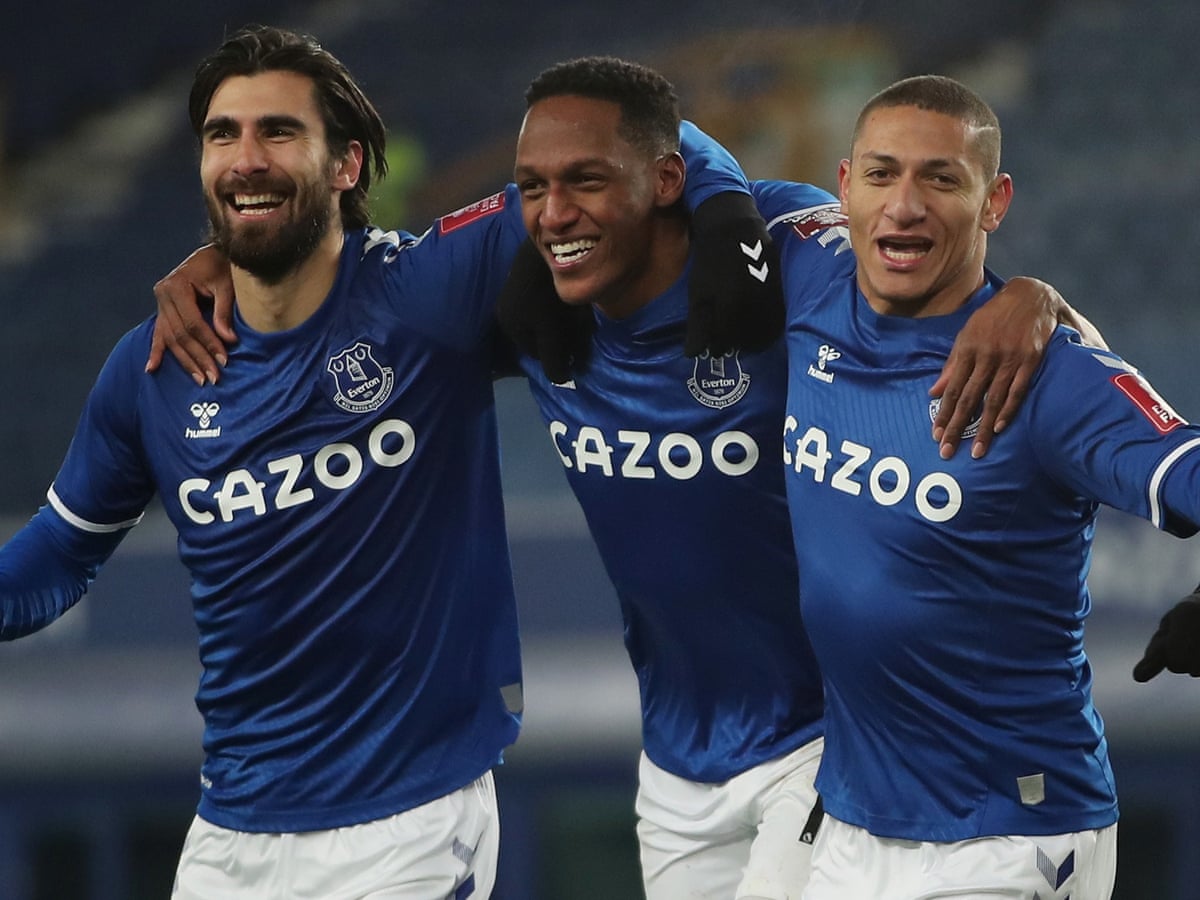 We bossed our way passed Sheffield Wednesday in the cup on Sunday night in a most unusual professional performance. There was a definite fear that we would perform in a similar way to how we did against Rotherham but after finding our feet we played some great stuff and walloped Wednesday really.
It's quite sad seeing clubs like them, and Nottingham Forest constantly underperform in the Championship. Both sides I grew up with in the top flight but show zero signs of getting back in the big time. A cautionary tale that we really should never go down or we may never come back. But forget that, we're on the up with Carlo's boys. Some of the football at the weekend was very very sexy. Hames at the centre of most of it.
James Rodriguez is pretty slow in his legs. But every thing else about him is lightning quick. He sees things us mere mortals cannot. It really doesn't matter that he can't move about too much. As long as we cover the areas we know he won't go of course. I can't believe he plays for us you know?
Sorry I was getting carried away with him. And I will again.
Wednesday were shite. We were ace.
Leicester in the league this Wednesday. Hang on….feels like we only just played this lot.
We bloody did. Like only last month. Beat them though.
There's STILL something insanely dislikable about Leicester City isn't there? I mean, one of my best friends is a Leicester fan and he's sound, and not even a Tory. But the majority of them. Tory ridden shithole.
Don't get me start on Brendan Rodgers either. He seems to be a decent manager on really. Never wins anything (LOL SCOTLAND DOESN'T COUNT) but can get teams playing some nice stuff and definitely has an eye in the transfer market for some very decent buys. It's just that he's an odious unlikable prick I think. Imagine him and Nigel Pearson out on a night out. Lick your daughters up because these two can't be trusted at all.
But yeah, the team is decent. Sadly. Beat Brentford pretty easy in the cup at the weekend.
Kasper still starts in nets. Reliable.
At the back, I hope Wes Morgan plays but it will probably be Evans and Fofana who are a very decent centre back pairing. Ricardo was rested at the weekend, and James Justin as the other full back is not as shit as I hoped he would be.
In midfield, Tielemans is someone we should really have gone for as there's no way we'd get him now. Ndidi is great at doing a Kante impression although the likes of Mendy and Amartey aren't good at all.
They have very attacking midfielders in Maddison, the absolute Love Islander, Under and Harvey Barnes who has really come on.
Now the good news. Jamie Vardy has died and is out for a few months. The bad news is that bloody Iheanacho ALWAYS seems to slot past us, and Ayoze Perez is a right little scrote.
But still, good news about the Chocolate oranges.
I didn't think we'd beat them in December, and I don't think we'll beat them on Wednesday either…..or will we?
2-0 to them.
There's so much to be positive about with Everton at the minute so here I am to bring you back down to earth and tell us all to not get too carried away.
Somehow we have 2 games in hand on most around us, but we know Everton. We have a chance here and when we have a chance we usually decide to not turn up or forget what a football is. There is, however, a very different feeling about the Toffees this season. Not just the Toffees. The whole league is a bit weird. Must something in the bat infested water.
But our squad is really thin. I think we all know that. Which is why it's a little baffling (again) that we're not making any moves in this transfer window. In fact we've had some terrible injuries so it's actually wonder that we are where we are. That sounded a little Klopp-ish actually. After all, they are the only ones who get injuries remember.
Pickford will likely return in nets. I don't like to say this as he's been fine in recent matches, but i just feel more comfortable with Olsen in there. He just feels safer.
At the back, likely to see the Keane and Mina partnership come back in, with Digne and either Coleman or Godfrey at right back. Which i'm more than ok with.
In the middle. ISSUES. No Allan or Doucoure for this so our midfield likely to be something none of us want to see. But there has been talk of Holgate doing the mopping up duties which we all know he can do. Gomes is looking a bit more Gomes'y last few outings, and Sigurdsson hasn't driven me up the wall recently. Oh….something about Tom Davies too.
And then the 3. Richarlison, Hames and DCL. Goals.
And that's us. The midfield losses are a concern. We had. the worst midfield in the league last season and our options stink of last season for this match. But hey, it's only one game.
With this game and then a really really shite Newcastle at home at the weekend we have a bloody good chance to make people take notice if we do what's needed. Is 6 points too much to ask? I don't think so. We've beaten this Leicester team WITH Vardy we can without. And we owe Newcastle a beating because fuck knows how we lost to them earlier in the season.
But again, I must calm expectations. We're not quite 'there' yet. We all know the areas we need strengthening, and so does the boss. We'll get there, and we are getting there fast. Just don't be too harsh on them if things don't always go to plan I guess is what i'm saying.
Or……WE'RE FUCKING WINNING THE LOT (except the league cup but that doesn't count).
UTFT!!!!
COYB!!!!