You're telling me that this game hasn't been postponed yet? And I have to write a preview for it? And that there's still a chance Everton can ruin all our festive times?!
Fucks sake.
But actually, I've kind of missed our Toffees over Christmas. Even though they break our hearts every other week and seem to enjoy it. It's just been weird watching just about every other team play while we've been sat twiddling our thumbs and have about 32 games in hand now. If this is what it's like having a winter break, it's a big fat no from me.
As for Newcastle, cheeky twats, talk about using the system. Fact is had Wilson and Saint Maximin not got injured and two of their shit players did you know we'd have played on Boxing Day. Now we'll probably have to play them after they've signed Batistuta and Adriano or something.
Anyway, Happy New Year.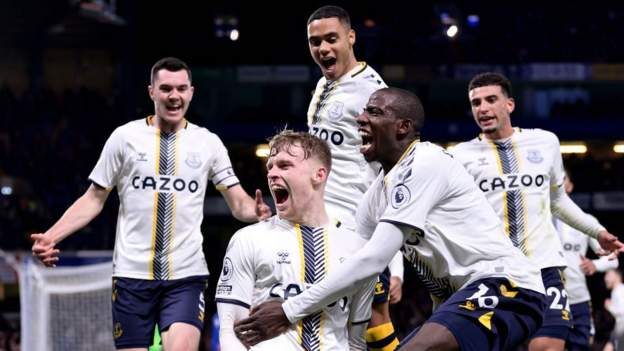 Took me a fair bit of thinking to even remember who we played last, but it was that creditable draw away to Chelsea…….wasn't it?! Our kids did alright didn't they? Shame we were forced to give them a go, but they did us proud. Simms did his best, and i know he'd slot if he'd been given a single chance to, Dobbin looked a real threat when he came on, and Branthwaite, well we had an idea he was decent, but probably didn't expect it to be the goalscoring hero. Well in the kids.
But everyone played a part in the performance, but I try not to get too excited. We didn't win at Chelsea, and since then we've seen that Chelsea themselves are slowly imploding despite all their riches. Looking at you Rom you oddball.
It is something to build on though, and COVID permitting we can take this forward into the new year. With new players and players returning from injury, one in particular to get excited about.
Brighton at home….
Oh what fun we had back when we last faced Brighton at home. James being James, goals all over the place, top of the league, no fans, DCL scoring every game and Spirit of the Blues topping the charts. A lot has changed since!
Apart from Brighton, they are basically the same as they were then. Very attractive looking side, but Danny Welbeck is their only striker who can slot regularly and he can only play about 2 minutes a game. Really, Brighton should have beaten Chelsea last time out, but their lack of cutting edge stopped them…again.
Graham Potter was some Evertonians, not all, pick to be our new boss when Carlo the Snake decided to dump us for his sexy ex, and i'll be honest I do quite like the way he has Brighton playing. You pop DCL into their team you'd probably see them really quite high in the league. Whether he would be able to recreate what he's done down on the south coast here is another question. Alas, it is all moot as we have Rafael Benitez in charge, for fucks sake.
Sanchez start in nets for them. He's ok. I don't know where he appeared from the other season, but he's kept his spot well.
At the back names like ex Toffee Shane Duffy, Adam Webster, Dan Burn are solid, while probably at their level where they won't go higher than Brighton, which is absolutely fine.
Wingbacks types of Veltman, Cucarella who is decent, the very good Lamptey and Solly March seem to rotate around the back line/wing for them.
In the middle, Bissouma is apparently not a sex pest, so we can go back to saying he's a really really good player who we've probably got zero chance of signing these days, and he plays alongside former Evertonian Adam Lallana. I say ex, because he chose to go to Liverpool that time. The prick.
Then they lob 3 forwards in trying to get a goal. I'd buy Trossard for Everton. He's a cracking little player who I rate a lot. I wouldn't buy Neal Maupay though. Or that Polish lad.
We know what we are getting with Brighton. They can play some really decent high tempo football but don't score.
So all I can see here is a 4-4 draw.
Literally 18 whole days since we last played. Such a weird situation the COVID ridden world we all live in these days. And it makes it tricky to know how we will perform in this. Brighton have seemingly played a lot over Christmas so will certainly have a few more tired legs than us.
Benitez was pretty coy on who can and who can't play in this one, so it's tricky to remember who is injured for us, and who may have COVID but lets take a look at possible line ups for us.
Pickford in nets, 'Rona permitting, as we really don't want to see Begovic ever play for us ever again thankyou very much.
At the back, one thing is for sure, Yerry Mina won't be playing. Frustrating lad him, as he's our best defender but doesn't look arsed. So probs be Keane and Holgate, with Coleman and Godfrey at full back. Digne may as well not bother training these days as he's almost certainly off, and his replacement Mykolenko isn't ready as yet.
In the middle, can't remember if Allan is injured or not, hope not, and hope Doucoure is ok too. Mainly because Tom Davies is back fit and we don't want him starting really.
Townsend is defo out I believe so likely to be Gray and the absolute superstar Anthony Gordon more than likely to be out wide.
Up top, I think Richarlison's injury was pretty bad so not him, so the bad news is we may see Iwobi just off the striker, the good news being he's to the AFCON after this with Nigeria so we won't need to suffer him for a bit, and the even better new is that it very much sounds big Dom Cal Lew is back and ready to score lots of goals. Please.
Just remember he's been out for ages, so will take him a little time to get back up to full speed.
Most unlike Everton, we've signed someone in the January transfer window, and not only that we announced it on the very first day of the window….and there's potentially a few more on the way….and out. See ya Lucas Digne, thanks for some decent memories.
The names linked coming in, are a right mixed bunch. Rangers right back Nathan Patterson is strongly linked, he's very well thought of and we tried to bag him in the summer, and jesus do we need to help Seamus Coleman at right back. I don't know much or anything about the kid so can't really comment.
Even though I don't know much about him, i hope he signs ahead of some of the others mentioned. I know we need a fair few new bodies, but not Phillipe Coutinho and his massive wage, and certainly not Ratface Barkley the little shitrat cunt.
But other than them two, interesting to see what more we can do in the winter window.
I really missed Everton this Christmas. Even though I know somehow they would have ruined it. I am really looking forward to seeing us tomorrow. It's been too long, but as we are Everton, we can start to place bets where that excitement turns into anger and we hate ourselves all over again. It's what we do.
So enjoy this Everton Eve. Hopefully we wake up to a SNES in the morning, and not a knitted jumper from your nan with your name on it.
COYB!!!!
UTFT!!!!