Well I wasn't expecting that. Everton do that though don't though they? Just when you are about to jack it all in and take up knitting, they go and smash some nobody and you remember all the love you once had.
That win at Burnley was much needed. A) because we needed a win or shit was about to hit a whole load of fans, and B) we haven't absolutely dicked anyone for ages. So it was thoroughly enjoyable for loads of reasons. Not that I got to watch it. I was on the M1. With the wife giving me goal updates. When she said it was 3-0 after 20 odd minutes I was fairly sure she was winding me up.
So a good win, and some interesting words from Herr Brands this week on Everton.net/UTFT. Any hope of getting that mythical 20 goal striker this January have been shot in the face as we ain't getting anybody. And if you take the time to listen/read his words you'll see that he makes a lot of sense. January really is generally for teams who are in the poop. Which we aren't thank goodness. Kieran Dowell has gone to Sheff United for the rest of the season which is a cracking little move as he will set up about a million tap ins for the best named striker in the Championship….Billy Sharp. Mason Holgate has also been linked with a few loan moves. Another good idea.
So who wants some? Brighton away. God remember that from last year? The most horrific 1-1 draw i've ever seen.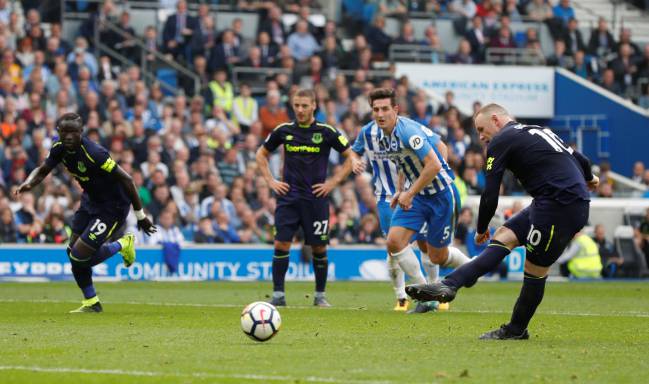 Wayne Rooney there. Alongside Niko 'massively over rated in my book' Vlasic and Oumar 'what do I have to do get away from Everton ffs?!' Niasse. We've come a long way in a short time. Sort of. We're still bloody eighth!
I'm no fan of 3 central defenders lining up for Everton FC but was happy enough with the results so can't moan about it too much. I just don't like it. We've all been waiting for Yerry Mina to slot in a header so we could see him do a little dance and he did not let us down. I want more of these. Just to help me practice them. And then we have Lucas Digne. Statistically the best left back in the top 5 European Leagues. So that is essentially the best left back in the Universe currently. In fact eff it, he's the best player ever. I still want a right sided version of him please.
Oh yeah. Brighton. Got carried away there. Let's look at their squad.
That's the Goldstone Ground there. For the younger readers that's where Brighton used to play. Absolute shithole.
Anyway, in net some good news to start. Matt Ryan has gone off to play for Australia in the Asia Cup, whatever that is. So someone else will be on goal. As far as I can see the only other keeper they have on their books is Jason Steele. Sounds like straight to Netflix Marvel tv show. INTO HIM.
At the back, Shane ruddy Duffy. And Lewis Dunk returns from suspension to make a not too bad, but not great centre back pairing. Full backs include Bong (first name annoyingly not Billa), Bruno (not Sacha Baren Cohen) and Montoya (not the F1 driver). I don't really know anything about them.
In the middle, they usually line up with Dale Stephens, Beram Kayal, Yves Bissouma, Pascal GroSS and that type. Anthony Knockaert hasn't been starting recently. And neither has the Iranian winger they played a bit of cash for.
Up top Glenn Murray remains better than any of our strikers which is absolutely hideous to say. And they have another one called Locadia who thank god scored on Boxing Day because that was his first in ages. And we know what Everton are like with strikers on the goal hunt.
It's not a great team on paper. But they got a decent draw with Arsenal the other day, and Chris Hughton remains quite likeable. INTO THEM.
2-0 Brighton.
Enough about them. Utter no marks. Onto the blues. Although we'll probably be playing in that ace black and pink away kit on Saturday.
Wouldn't shock me too much to see an unchanged team. Brighton aren't too different in style to Burnley so wouldn't be the worst idea. Guess it depends who is knackered and who isn't. Would be nice to see Gana back in, and seem to recall seeing something about Gomes facing a late test. Which we all hope beyond hope is passed with flying colours.
And that's all you're getting from me about Everton's team this time round. Mainly because we won 5-1 and i've got nothing to whinge about, but also because we play Leicester on New Years Day and I might get to whinge then. Hope not.
Be nice to end what hasn't been a great year with back to back away wins. It's not something we do very often. And will give more fuel to me turning my mind around about Marco Silva. It won't take much.
Then we can sit back and laugh at everybody else going about their January transfer business. Because we ain't gonna be doing a thing!
INTO THEM
COYB!!!!
UTFT