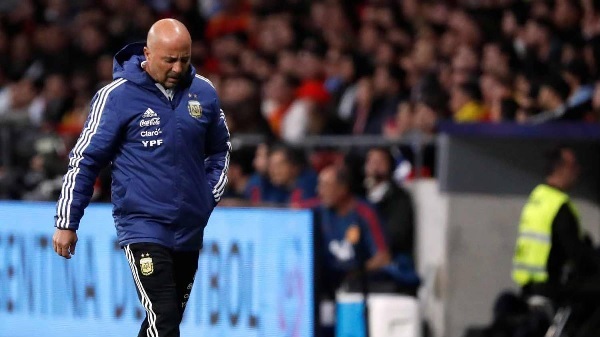 After a relatively poor week of World Cup action for the South American nations, Argentina's as.com reports on a mutiny in the Argentinian squad after their abject 3-0 defeat at the hands of an excellent Croatia side in their second game. The report suggests a rift between Manchester Citeh's Sergio Aguero and Jorge Sampaoli has led to the squad asking for the coach to be replaced in the technical area by assistant Sebastián Beccacece for their final group game against Nigeria.
https://argentina.as.com/argentina/2018/06/22/futbol/1529627398_768720.html
Meanwhile, El Comercio of Peru is full of praise for the ultimately futile attempts of Peru to progress past the group stage of the competition, Los Inca's first crack at the World Cup finals for 36 years. Potential Everton target André "Poor Man's Bolasie" Carrillo is given particular praise, optimistically describing him as 'genius' who 'ridiculed' the french full-back Lucas Hernández throughout the match.
http://Perú vs. Francia: la genialidad de Carrillo ante Lucas Hernández en Rusia 2018
Up in Colombia, El Tiempo says that Los Cafeteros have started their shock therapy after defeat to unfancied Japan in their opening game, when the experienced Carlos Sanchez was red-carded in the third minute for a moment of madness handball. The lad's clearly never heard the sad story of Andres Escobar. The squad understands that only togetherness, composure, and strong character can reverse the situation, according to the Bogotá daily.
http://www.eltiempo.com/mundial-rusia-2018/la-seleccion-colombia-comenzo-su-terapia-de-choque-en-el-mundial-rusia-2018-233480
With qualification for the second phase already secured, the press in Uruguay are more relaxed about Los Charrúas progress for the moment, switching their focus to lament, or maybe laugh at, the position of their befallen neighbours and fellow barbecue experts, Argentina. El País offers the consolation that at least Li'l Leo Messi will no longer be the number one target for critics after Willy Caballero asked redshite keeper Loris Karius to "hold my pint and watch this" with what the Montevideo newspaper calls a "monumental blunder."
https://www.ovaciondigital.com.uy/mundial/vivo-online-argentina-croacia-mundial2018.html