Piece of piss this league innit?. You just have to be absolutely grim for 6 months, lose to shite like Millwall and Newcastle and then you can start literally pissing over all the London clubs. And I mean all of them. It's good this.
I'm told it was something like 2016 when we last won 4 games in a row, and how very very Everton it would be to be absolutely boss for 3 reasonably tough games and then shit it right up against a Fulham team who are already relegated.
E-V-E-R-T-O-N we're Everton and we'll be Everton forever.
Nah we should defo win this. And it's horrendous being confident. I almost prefer dreading every game we have. As we are now it's a different fear. When will Everton show up? What drugs are we currently on? And when will the wear off?
In all seriousness, we've been boss…and I can still find things to whinge about.
Look, I like DCL. He's coming on leaps and bounds, but if we'd had the dreadlock version of Lukaku up front in the last three matches we would have slotted about 20 goals. And it's not all DCL's fault.
Bernard had chances. Sigurdsson had chances. Richarlison has chances. Against some teams we would have paid for these misses despite being so very dominant in every single game. And it's this reason we should still be wanting better. And by this I mean we can still and always can get better players in. And I have faith Brands and the lads will do this in the summer.
Let's have a look at how shite Fulham are.
Is that still there? Surely not?
Anyway, the Cottagers….hold on, no wonder Jacko like them….are already down. They're on their third manager this season. People got them confused with Wolves last summer and predicted they'd made ace signings and will be 'right up there' this season. Well many many lols at them.
To be fair i'm not really sure what went wrong. On paper their team doesn't look that bad. Certainly better than some crap that's still in this league. But I guess paper don't win matches.
In nets, Sergio Rico was very highly rated at Sevilla not too long ago but somehow has ended up here. Poor guy.
At the back, people wanted us to sign Alfie Mawson. Big ups to me who did not. He's woeful. Calum Chambers is only on loan there, and he's half decent but when Denis Odoi is the other centre back you start to see why they're where they are.
In midfield…well Jean Michael Seri didn't go to Barcelona. Can't see why not. Oh yeah, he's absolute dogs. Tom Cairney looked fantastic in the Championship last season but has not up the level. And Ryan Babel thinks he's a red Sisqo.
I'm not sure where Ryan Sessegnon really plays. Like half full back, half winger…..100% massively over rated, but will almost defo leave for megabucks this summer.
Up top Mitrovic is linked with us a lot. I'm not sure you know. He can slot, but i'm not even convinced he's better than Tosun to be honest. And by that, not the type of striker we need at all. Vietto is on loan from Atletico Madrid so probably can't wait for the season to end.
And that's them. Having said they look half decent on paper, I now regret it.
18-0 to someone.
I still don't really know where we will finish. On form we could sneak 7th which might mean Europa League and our season starting the day after the season ends or something. Do we really really want that? Europe is ace, but i'm still butt hurt from getting shafted in Kiev that night. And Fatty Koeman getting embarrassed last time we had a go.
It will probably depend how well others do anyway to be honest. We left ourselves too much to do on our own so will need Wolves and Leicester to mess up a bit to stand a chance.
Quick word for Phil Jagielka. He won't play this weekend probably. But if that Arsenal game was the last we see of him it was a lovely send off. He's been alright in my book. No winner. But alright.
The lads there.
Fully expecting a similar line up for this game. Jags will probably still be recovering from running for 90 minutes and Keane has recovered from his tummy bug so should slot right back in with Zouma.
Zouma and Andre Gomes are clearly ones Marco Silva wants to keep this summer. I'm not convinced we will keep both but couldn't tell you which one will and which one won't.
The rest of the team should stay the same. The Brazilian bad boys out wide can create whenever they feel like it so i'd expect goals.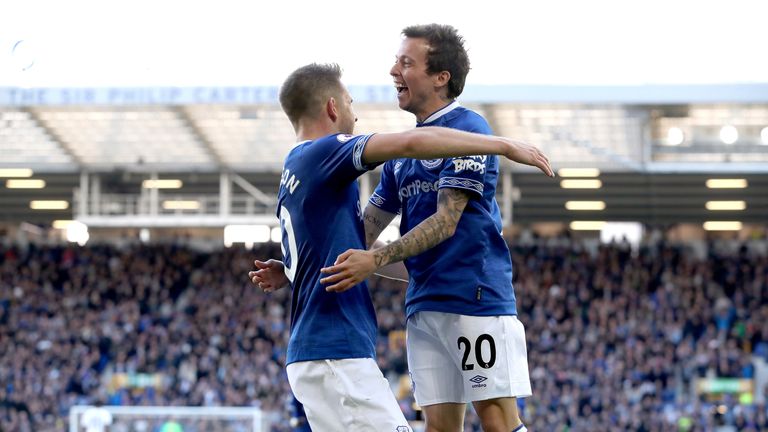 Look at his little face.
Anyway, not much more to add. We're boss again. So enjoy it before the next insane twist comes along.
UTFT
COYB