Thank you again to Andy at @bluearmy for helping us out!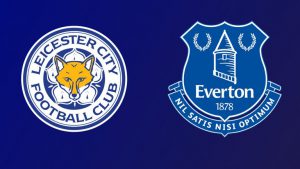 1)What was your overall assessment of the match?
As predicted, we started slow AGAIN! I thought you looked well organised and effective, Richarlison as Centre Forward was a surprise. You deserved your lead but we came back into it and at the point of the red card, I felt 1-1 was fair and the game was evenly poised. After the red, we dropped to 4-4-1 and you went to 4-1-4-1, but despite all your chances there was nothing clear-cut. It took a worldie finish to win it, and what a goal!
2)Who was your man of the match?
Sigurdsson or Bernard for me, thought they were both dangerous and classy.
3)Who impressed you for Leicester?
Tough one, Kasper had a good game in goal (which paints a picture!) Ricardo took his goal well and Ndidi was busy… But not a game to remember for us.
4)Who impressed you for Everton?
I like Bernard, first time I have really seen him play. If you eventually have him and Richarlison on the flanks with a decent centre forward it will be interesting for you. Like how Sigurdsson is comfortable as number 10 or centre midfield too. Modric-like.
5)Wes Morgan got sent off with a large portion of the match left, what are your thoughts on the red card?
Correct decision for me, and to be fair to the ref he was warned before second yellow. Club legend but too old and slow now, second red in 6 or 7 starts tells it's own story.
6)I heard an interesting fact that your home form has been unsatisfactory for the past 2 seasons – how much is this concerning your fan base?
Our fan base is split down the middle! 'Puel IN' say that we are in transition, changing from counter-attack football to possession football with lots of young lads coming through. 'Puel OUT' are bored and tired of lacklustre displays (particularly at home against 'non-big 6' opposition).
7)Everton looked comfortable at 1-0 until some questionable play from us opened the door for Ricardo to equalise. At 1-1, how did you see the game progressing from there?
As mentioned above, I thought it could have gone either way and said to my lad at the time that I fancied us to win.
8)Who disappointed you for Leicester?
Vardy & Maddison – these two will start every game and rightly so, they are our goals. Both did not shine. Think Everton did their homework!
9)Who disappointed you for Everton?
No-one really, although I felt your central midfield duo were pretty non-existent. Need a bit of quality in there maybe.
10)Was it a fair result?
Yes, in the end. The second off swayed it in your favour. Not sure either team will get 7th, but hopefully we are both in the mix! Cheers