Oh yeah we play games sometimes too.
Easter was pretty fun not having Everton ruin it……oh no the wife had COVID and the whole weekend was still a fucking waste of bastard time. At least I didn't get it I suppose. And those redshite cunts have just taken the lead over that bag of shite Man United and are going to win bastard everything.
Football. Bloody hell.
In what feels like about 4 years ago, our Toffee blues won their last game against said bag of shite Man United. It wasn't the perfect performance by any means…..not that i'd know. I'd given up on Everton and pissed off to the cinema rather than watch Everton….but i'm told it was a real dig in type win, and frankly that's absolutely fine right now.
We needed Pickford to goalkeep, we needed defenders to defend, well in Ben Godders, we needed Anto Gordon to boss it. We probably didn't need DCL on the pitch like with what he has offered in recent weeks….not a lot. And to be honest, all our remaining games this season are going to be a bit like this.
Since the United game, Burnley remain our team to watch. Essentially, it's us or them for the last spot in the bottom 3, and since our last game they've lost to Norwich, sacked their greatest ever manager, lost a key player to a horrendous injury and got a creditable draw at a very knackered West Ham. See it's not just Everton mad stuff happens to. Really they should have lost to West Ham too, but that big dope Pope pulled off a couple of crackers. Of course he did after i've called him shite all season…..of course he did.
But really, it's not up to what they do, it's up to what Everton do.
Leicester City at home.
I, and i'm sure you all do, hate Brendan Rodgers and his stupid saggy face. I hate Leicester as a place too. I mean i've never been but why would I ever want to go there? You can get crisps anywhere. And yet, my best mate, and one of my best men at my wedding is a Leicester fan so I had to pretend to be happy for them when they keep winning stupid trophies as we continue to look like dickheads year after year.
As a team, player by player they're annoyingly likeable to be honest though. I'd take nearly all their players over ours, and it still annoys me that we could have bought every single one of them had we not been fun like a bloody sweat shop over the last 8 years.
Anyway, Kasper in nets, I like him. Some don't rate him. Meh.
At the back, Thomas is a weak link, but Fofana coming back for them is huge. He's real good. Soyuncu hasn't really pushed on and other full back Justin is ok.
In the middle, you know Tielemans can run the game if we let him, i'm not sure what a Dewsbury-Hall is but it sounds very Tory, and Lookman and Perez started wide in their last game. A defeat at Newcastle.
Vardy the little meff is still injured luckily, so Daka starts up front. He's like a not as good Mane.
Other players include Amartey, Barnes, Ihaeanacho and James Maddison. You know they're players. They're decent.
Tough game this.
8-0 to us.
Thankfully this lovable fool is back fit (for now) and should hopefully start for Everton. It's mad how his shithousery improves us so much back there but we have nobody like him. Such a shame he's made of soggy tea soaked digestives. Odds on him not making it to half time anyone?
Other than that Donny Van Der Beek is back for us. I honestly, just like most Man United fans, have no idea if he's any good, but there's zero chance he will be here next season with Ten Hag going to United he'll get his chance to shine there. He seems a good lad so I hope he does well.
Pickford in nets.
Mykolenko, Godfrey, Mina, Coleman.
Allan
Doucoure Van Der Beek
Gordon DCL Richarlison
I'd be amazed if it's any different to that. Harsh on Delph who made a real difference against Man U, but let's be honest he's probably injured anyway. And no place for Dele Alli. Of course.
Unless you drop DCL…..I would, and I know a lot of you would too. He'll start though.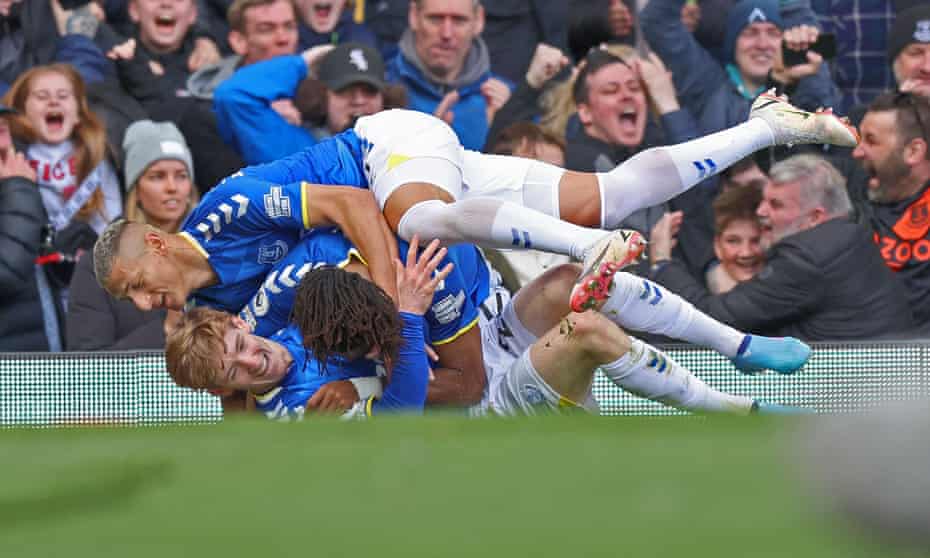 And that's Everton vs Leicester City at Goodison Park in match preview format.
I hate to use the 'r' word. But we're still deep deep in it. And our run of games is very very tough. Don't let the Man United game let us lose focus. They still need all our voices. All our support. All our praise. All our encouragement. Under the lights at the ground we all love.
I keep saying it, but there are not many more games, let alone night games, left at the old lady. Make the most of every single one.
They need you.
COYB!!!!!
UTFT!!!!