Everton are pretty good at the moment you know. I mean Sky even included a picture of Marco Silva in a little marketing piece with all the other top 6 managers the other day. I see that as a sign of things getting better as we are never ever included in such things.
The irony being included in that list is that we still currently sit ninth in the table! But, for me at least, league position doesn't really mean anything. Not at this point in the season at least. As one of Marco Silva's harshest critics when he was appointed manager, I am absolutely slowly turning round and actually starting to appreciate him. A win at a big team would certainly help cement this.
Last weekend I went out shopping with the mrs, and that almost always means Everton win as I can often be seen in Primark or some shite celebrating Everton goals of a Saturday if she's managed to drag me out. And as Richarlison and the boys despatched of Brighton in probably our best Silva performance to date, I was indeed dancing around the isles of Harrogate's limited shops. Without a care also.
A word on the man above. I'm not the only person to have been harsh on him in recent weeks, in fact I believe he's been harsh on himself, but one thing I do love is being proved wrong by a player I may have criticised. It generally means an Everton player is playing well and that is what we all want really. Seamus Coleman put in a cracking performance last week I thought, and topped it off with a great goal too. If I take a step back, perhaps I have been overly harsh on him. He has had some bad injury issues even apart from the leg snap so maybe he deserves a break. Well in Seamus. Just learn to cross properly and we'll all be happy.
Now who wants some of the SportPesa Cup (i'm really not going to talk much about that 'game' in the week)winning team this weekend? Oh, Mr Barkley, we meet again you odious shithouse. More on you later. Chelsea away it is.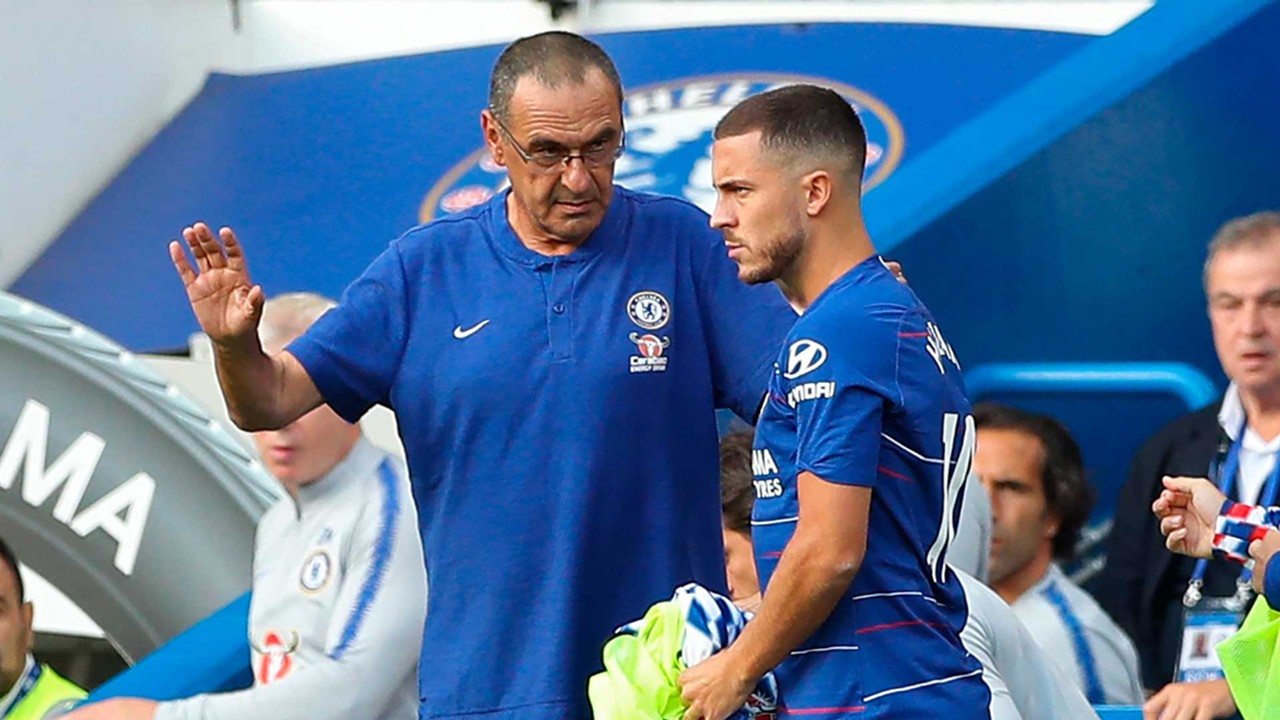 Well shit. We probably aren't winning here are we? They're really good and we are merely good. Sarri is an interesting bloke though. I honestly can't tell how old he is meant to be, but he just doesn't look like a football manager at all. He's almost the exact opposite to Conte, who was very entertaining on the sidelines, and Sarri just has me worried he might not see out the 90 minutes. But let's be honest, they're a top top side and Sarri is making them into how he made Napoli. A bloody good team.
Let's have a look at their squad. Their absolutely ridiculous squad. Not including the 109 players they have out on loan of course.
In nets, *Googles full spelling of his name*, Kepa Arrizabalaga, who was a really really odd choice to replace Courtois in my eyes, but seems to have settled in quite well. I've not noticed him make any huge errors (not that i've seen loads of Chelsea this season I have to admit), but not really noticed him come up much pressure either. Maybe we can give him a test on Sunday.
At the back, I have one main question. Where exactly was David Luiz last season? So weird, but seems to be doing well back in the team this, alongside the likes of Rudiger, Alosno and Azpil…Az…you know the other full back.
In the middle that traitorous little prick seems to have settled in down there. Let's be honest though, it's just a matter of time until he pisses off some cockney gangsters and gets booted out of London Lock, Stock style. Part of that is me missing him playing well for us, but then I remember how he left us without giving a shit for his 'boyhood' club and now we have Andre Gomes sexing each week, so nah. Stay there.
Also in midfield they have the oddly not Brazilian Jorginho who keeps everything going there, with Kante trying to be Gana each week too. That was a joke there.
Up top, Hazard one side, Willian the other, or some other boss lads, and then Morata or Giroud in the middle. Morata annoyingly hitting form just before we play them. The tit.
I've not even mentioned the liked of Kovacic, Loftus-Cheek or Pedro here, they really are a strong outfit. But worth mentioning they travel to Bate Borisov this Thursday evening so maybe they'll be tired, or get some injuries. Maybe.
Something like 15-0 to them.
But wait….we are NOT the Everton of last season. We will go to Stamford Bridge and try and win. Which is really rather refreshing this season. I mean, we tried it at Arsenal, and lost. We tried it at United, and lost. But it just feels slightly nicer having a go than turning up and rolling over like normal. The truth is we aren't quite there yet. Surely we will get something at one of these teams soon, it's been too long now.
The Everton team news will minimum have one change. Let's have a look;
Pickford in nets, forever please.
At the back, Yerry Mina played 4 minutes against Brighton and wanted to lamp Glenn Murray and played all the stupid game on Tuesday, I assume he came through fine and will get a real real test on Sunday in his first full proper game replacing  the ineligible Kurt Zouma. He will b alongside Keane, who has been frankly great since his foot isn't falling off anymore. An England call up maybe on the cards. Digne and Coleman fullbacks of course.
In the middle, same again. Gana and Gomes sound like an 80's pop duet about to unleash a classic like Toto's Africa, but instead terrorise mid to lower table midfields in differing ways. They just need to take a big team on in the same way. Gylfi will be in middle up a bit trying to create anything.
Top three, likely to be the same I think. Bernard and Walcott were very VERY lucky to start against Brighton last week, but did ok. And I expect them to start here too. And if they don't perform we have decent enough subs to change it up. Richarlison to cause them issues as he's Brazilian.
Could do with another moment like that couldn't we? Surely soon we will get something at a team like this. Just by the bloody laws of averages say we should eventually, so maybe this weekend is it?!
I'm on the verge of liking us fully again here, after a good few years of not doing. But I am not there yet. We are still in 9th place. We still shit it against any half decent team. But we are clearly improving, so let's get some more improvements under our belts here. And if we hurt Ross Barkley along the way then so be it.
COYB!!!
UTFT!!