Everton, again, had the 3pm Saturday kick off slot. Everton, again, got 3 points. I won't tire from saying that.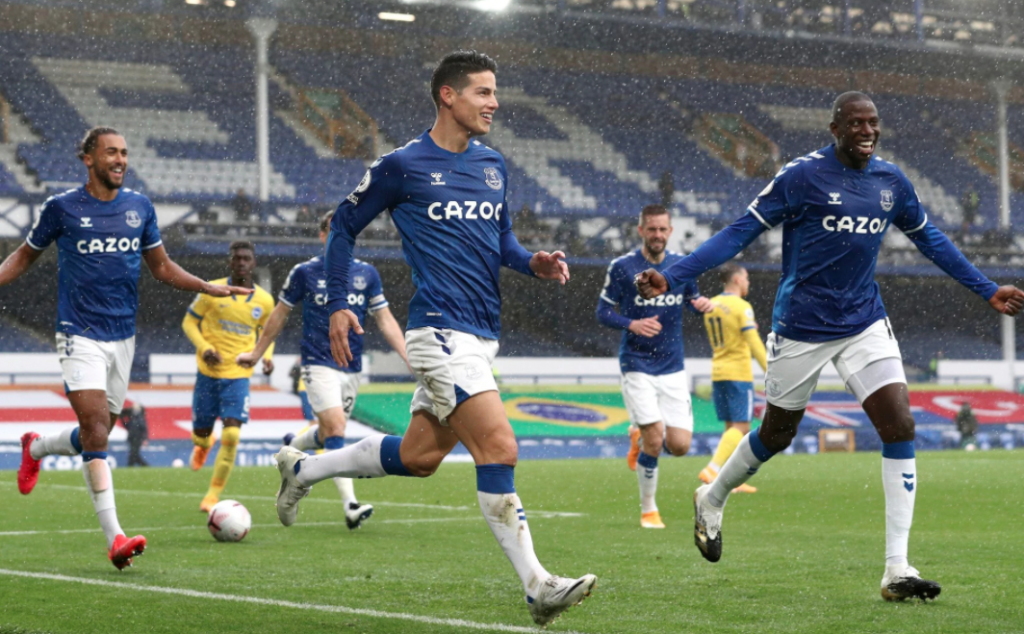 Brighton, although they sat on 3 points after 3 games, have had a good start to the season. In the sense that it is obvious what the coach wants, and it's obvious the players are listening. Which, in itself, presented a different challenge to Everton than we've had this season. It's elitist behaviour to limit Everton's success thus far by saying 'yeah, but who have they played?' Brighton came to Goodison Park high on confidence, if not wounded from the week before, and it was widely expected that they'd continue with the high shot volume that meant that they rattled the woodwork a mega 5 times vs Manchester United.
The game was played in typical autumnal Merseyside weather i.e. pissing down with rain, but that played in to the tempo of the match and for large portions, we controlled the match and was organised straight through the 11 – barring another brainfart from the man in the nets.
Anyway, from an Everton perspective, we know the score – literally. So, to get a opposing perspective on the match, I once again caught up with Jeremy. Enjoy:
First of all, what was your initial reaction to the match? Was it a fair result?
I thought that (had I been a neutral…) it was a really entertaining match. Six goals, two good footballing sides with different styles, bad weather to add some spice. Yes, the result was fair. I think we played well and matched you in many ways but you were more clinical in both areas and that made the difference. I think we did deserve the late consolation – a three-goal deficit would have been harsh.
Who was the best player for each side this afternoon? And who was your eventual MOTM?
For you, I thought Mina and Doucoure did some great defensive work, but I guess it's hard to look past James Rodriguez – an assist, two goals and just oozing class in whatever he does, which I think rubs off on the rest of the team. For us I thought March got better and better as the game went on but I think Bissouma edged him, great energy and availability all over the midfield and a fantastic goal. Considering the result you probably have to have James as MOTM.
In contrast, was their any players you were expecting more from this afternoon? 
I thought Trossard was a little too quiet, considering his great start to the season. And, without naming any one of them, are centre-back unit clearly still needs a little time to get used to the new system. For you – I would say Pickford but frankly I don't rate him at all so I wasn't expecting anything from him.
Rain and English football go as well together as fish and chips. I feel it had a lot to do with the tempo of the first half, although it also contributed to the injuries to Lamptey, Coleman, Richarlison and a couple others nursing their legs. Do you feel the enforced substitutions changed the overall flow of the match?
No, not really. Perhaps Lamptey's speed could have helped cut out your second half goals on the break, but I'm not convinced and I thought Veltman did well. Iwobi was excellent coming on for you, but then Richarlison always does well against us anyway so I'm not sure that changed too much.
This Brighton squad has Potters fingerprints all over it. Most notably the departures of Murray and Duffy cement the new era of playing. Were Brighton guilty of over playing today? Especially with someone of Pickford's limited shot stopping ability in the opposing goal? 
I didn't have too many issues with the over-playing in open play – it's still an improvement on last year, you were so solid and well organised defensively and yet we still made a few chances. But the over-playing from set pieces was extremely frustrating – last year you were apparently the only team worse than us at defending set pieces, Pickford showed yet again how suspect he is and the weather was terrible. We really could have done with pinging more crosses in – it was really frustrating how many of your second half breaks came from our attacking set pieces.
The second half seen Everton sit back more and invite the pressure. Is there a cause for concern that Everton – and James Rodriguez in particular were able to score pretty similar goals today, partly due to the counter attack against your back three?
In terms of the back three, I'm more worried about the set pieces. In terms of the counter attacks, I think that that was inevitable to an extent with us pushing forward for an equaliser. Again, I think the back three just need to form a better understanding – it's great to have three good ball players there, but they need to work out between themselves who should stick or go and when.
I have watched every Brighton game this season (a mix of enjoying Graham Potter and right timing) and from an external perspective, believe this to be your worst performance to date. Is that something you'd agree with?
Yes it is. And yet I still think we gave a decent account of ourselves at a ground where we never do well. So I'm trying to stay positive although we really need to convert the good performances to goals. This one hurt nowhere near as much as last week vs Utd.
Everton hit 4 goals today, potentially could have had more, in reality this contest could of ended 5-4, was there any aspect to Everton's play or any players that potentially impressed or surprised you? 
I just thought you looked the whole package. Really well organised and "on it" defensively, clinical counter attacking and finishing. We gave you a lot of help – especially gifting you the first two goals – but you took your chances well and snuffed out the chances that we created. The only weak point, the way you're playing at the moment, is Pickford. I hope he doesn't cost you too many points this season.
That concludes the last Football fallout before the first unnecessary international break of the season – once again, i'd like to thank Jeremy for his time, and if you haven't already, I strongly urge you to follow him @JeremySmith98