What an eventful transfer window. That's a lie. It was really boring. A few loans out here and there. Somehow Cuco Martina has ended up at Feyenoord where I can't wait for Robin Van Persie to get a load of him. But it was always going to be quiet. And windows will continue like this until our squad is trimmed right down. We have some players on insane wages who are offering absolutely nothing to us. And it simply cannot continue. Sandro, Morgan Schneiderlin and many others earn more than we could dream of in a week, and it's not right. The mistakes of the past are haunting us now, and as harsh as I am on Marco Silva it's not his fault.
Some of these players need to take a look at Davy Klaassen. I have absolutely no doubt he would have taken a pay cut to join Bremen last summer but for his career, and let's be honest, his happiness, he moved to actually play football. Sandro, Morgan and many more could do with having a word with him as they simply aren't ever going to get a game for us anymore and need to have a look at themselves.
It's not that we are skint. I'm sure we could have paid £35m for Batshuayi (THANK GOD WE DIDN'T LIKE!), but we can't keep adding to a ridiculous wage bill. Koeman and Walsh still costing us now is a horrible fact that needs to be dealt with between now and the summer window.
Anyway, Everton won this week believe it or not. We won a game of football and despite being absolutely awful at football we sit 8th in the league. Just how bad are everyone else?!
The 1-0 win away was 'nice'. I'm still horribly negative right now, so will say it all just feels a bit pointless doesn't it? The players showed some nice grit in the face of some red card and Gana transfer request adversity, but it's all too late. AGAIN. This grit was needed against a shit Championship team on Saturday in a game that actually mattered. We've seen this so often after a shocking cup exit we do something half decent the game after. I can't be arsed with it. Just don't be shit in the first place.
All we have to fight for now is a decent league finish, and frankly anything between 8th and 14th makes little or no odds to me. We're not getting higher than 8th, and 14th or below is a disaster. Yes, league position means a bit more cash. But not enough to pay Yannick Bolasie's contract up so I don't care anymore.
I was going to come over for this game but can't be arsed. Wolves at home.
My god that feels like a long time ago. First game of the season and I was in Barcelona having a dirty weekend away with the mrs. Mad that I was happy with a draw there, but looking back we really should have won. But you know, Jags got a red card, and we had Morgan Schneiderlin playing so you can't have everything.
I find it hard to hate Wolves to be honest. They have a bit of cash/fancy agents helping them out, and they're doing ok. Definitely got some decent players in their ranks and even when they're doing crap they lob on Adama Traore to try and run the right direction for once. Like I say don't hate Wolves. Apart from the Black Country accents. What even is that?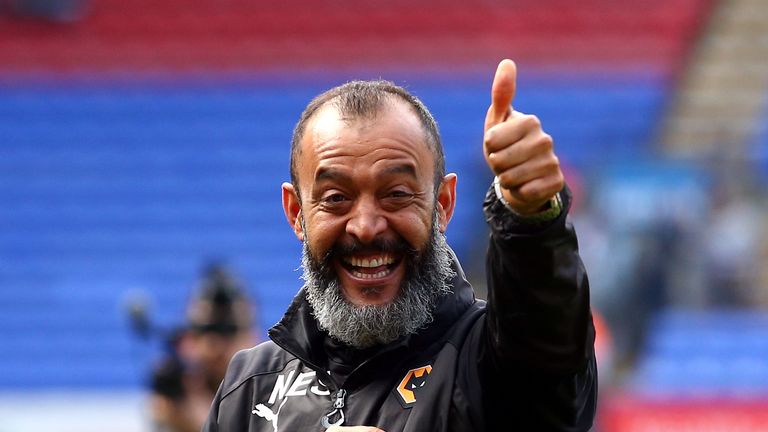 He seems like a likeable fellow too doesn't he? Much more passionate and liekable than our Portuguese manager in my opinion but he's part of the Wolves Mafia that will probably break down once the agents get a new toy.
Let's have a look at their team:
Rui Patricio in nets. Decent and easily as good as a team like Wolves will get or ever have.
At the back, Jonny signed on a perm this week for a decent fee, and he's alright….i'm not overly sure who else they have at the back. Their squad suggests the likes of Willy Boly (LOL) and Conor Coady but I can't be bothered to look up who else they have but it seems like this is the main area they need to improve.
In the middle Joao Moutinho is till making things tick and giving me and many more blues nightmare about what a Moutinho/Arteta midfield would have looked like back in the day. Beautiful is the answer. Beautiful. Neves is awesome too. But not as awesome as i'd expected him to be as captain of my fantasy football team for most of this season.
Up top Raul Jiminez is better than all our strikers put together. Something I say about most teams strikers so don't go about it lurking Wolves fans yeah?!
I dunno, probably something like 6-3 to Wolves this one.
Everton's line up will be interesting. A few questions behind.
Digne took one for the team in the week so is suspended, and Baines picked up a knock so I have no idea who will play at left back. Maybe Kenny will play there as he did coming on Tuesday. Maybe Luke Garbutt can be recalled. HAHAHAHAA NO. Someone pointed out to me what wage we pay him the other day. My god. We are never paying a new player a wage ever again.
The other question we have is what frame of mind Idrissa Gana Gueye will be in after we, perhaps quite rightly, ruined his dream move away to PSG this week. Sorry Gana mate, I know you don't owe us anything, but you're just worth a bit more than they were offering mate. That's just the way it is. Suck it up and tackle some people this weekend please. Doesn't seem the type to get a mard on does he?
And that's us. Every game now seems like a waste of time as we try and 'go again' in the summer. Apart from the City game that I actually hope we lose 17-0 and the derby which I hope we win 18-0.
I do hope we beat Wolves though. Just because of their accents.
COYB!!!
UTFT!!!!