Well at least it's not boring. And by this I don't mean our tepid tripe we served up at Swansea last week where we gained a 'VALUABLE POINT'. Seriously he (you know who I mean) said it was a good point. Have a word hey!?
But Everton still made the headlines this week as fans were sent a survey asking to rate the manager, the players and others out of ten (hahahahahahaha he rated himself 11….SACK). The manager has since said that this survey was sent out by accident, and that the Head of Marketing at Everton (Richard Kenyon) isn't a football man. Well big man, he's more Everton than you will ever ever be, and could he tell us all if the survey being sent out in previous seasons was also an accident? And to top it off the chairman has the cheek to apologise to him over all this. Again, I assume Kenwright has written to Koeman and so on apologising for their surveys? Nah, of course not.
We can continue to moan about the manager, chairman, club as a whole, and we will, but we are in a higher position than when Sam arrived. That's a fact. But, and boy oh boy there are a lot of buts, it's the complete arrogance of the man that he feels he was the only person in the the world that could have saved us this season. He's not. I would argue that even Koeman would have sorted the mess out, not that i'd have advocated him staying at the time he was given the boot, but the point being, were we really in that much danger? Looking at how turgid a lot of other teams are in this league, you'd think no. But Sam Allardyce was and is not the only manager in world football that could have sorted us out. There are near endless options. And guess what….there's even more options to replace him now.
Anyway, Newcastle at home….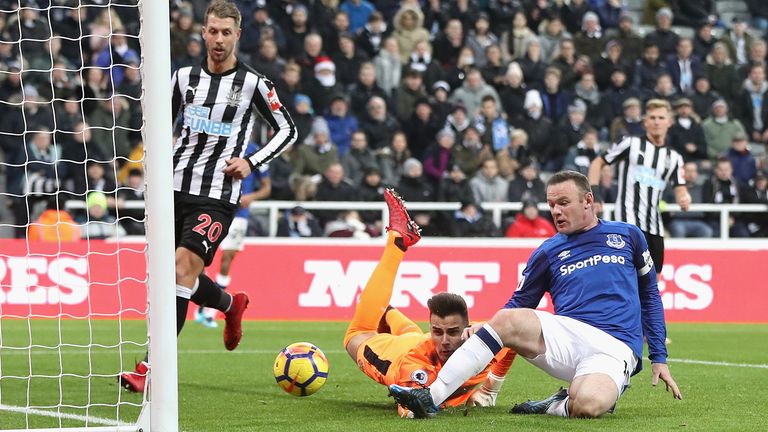 We won up at Newcastle late last year, despite them hitting the post and missing chances, but Sam won't let you hear that bit. It was a rare away win, so I guess we should have enjoyed it more.
Since then Newcastle have slumped, and then, and now, have improved incredibly, and unfortunately for all Premier League police horses, will now not be relegated. For some reason, Newcastle think they 'deserve' things that they do not. I don't know if it's their nice big ground, their brief flirts with the Champions League in the late 90's and early 00's but the fact that they spend so much time in the Championship would make you think their fans would have a bit more humility. But they are right up there with the worst going for me. They're a northern Bournemouth who should just be happy being where they are.
Let's have a look at the team;
In nets, an utter random they have loan from (THIS IS) Sparta Prague, Dubravka, and to be fair he's been performing way above expectations. Keeping Karl Darlow out of the side.
At the back, we should sign Jamaal Lascelles as he's actually good, but I fear bigger lads will be after him this summer, but he's assisted by the likes of Paul Dummett and Ciaran Clark. So there's hope back there.
In the middle, Slytherin's finest picks passes out of his arse occasionally as Jonjo looks to get himself on the Hogwarts Express plane to Russia. Since I am now coming up to 4 years despising international togger, let's all just think how funny an England World Cup team with Jonjo Shelvey in it would be. I want it.
Other midfielders include the not awful Scottish lad, Matt Ritchie and Kenedy, on loan from Chelsea, has been somewhat of a revelation.
Up top, Ayoze Perez, looks so Spanish but has a knack for being in the right place, they have Slimani on loan from Leicester apparently, oh and we all still have a soft spot for Dwight Gayle. They actually have options up there.
0-1 Newcastle – Dumbledore 93′
Apparently the two managers had a bit of a barny back in the day. Can anyone remember why or what it was over? Because I bloody can't. A lot of Evertonians will be in the unique position of despising both managers in Monday night's clash. I'm in that camp. But in a week where Everton opinions have been on high there are people out there giving Sam 8 out of 10s, and even worse would want Rafa Benitez at Everton. They exist.
Enough manager talk. It's getting boring. Like our football.
Pickford will start in nets. Obviously.  I had a thought the other day, Stekelenburg is still at Everton isn't he? Madness. Surely both our reserve goalies will be part of the squad culling this summer? Surely to god.
Anyone expecting any mad changes at the back for Monday are going to be disappointed. It will be the same 4, but it was weirdly nice to see Funes Mori getting back on the pitch last weekend, even though he somehow missed that late header…..about that summer cull.
In the middle, Morgan Schneiderlin has been mouthing off this week about a move back to France. I hope he thinks he will end up at PSG but actually ends up at Brest, the absolute nipple. Gana will start, Rooney will start, Davies or nipple will start. God we are so dull. Maybe Klaassen or Vlasic will get a …. Nah.
Up top, Tosun will continue to play for us, even though we don't create a single chance for him, Walcott needs to realise he's fast (I think this has been said about him forever) and Bolasie just simply shouldn't be in the team. But I'd bet my bottom dollar that he starts this.
I guess that's why they call us the blues.
I don't really know why I picked that picture. I guess it's nice to have Pienaar back at the club, even though i'm hoping he gets wankered and goes on a Twitter rampage again secretly. I watched a video this week, one of those 'On this day' types where we beat Blackburn wearing that under rated black with pink pinstripes Le Coq Sportif kit, and had the likes of Arteta, Cahill, Yakubu and Pienaar doing things and looking like they actually cared about us and getting the result. I miss these days. Tim Cahill said this week that he feels Everton have 'lost their identity'. And boy we have. The reasons are so many too. It needs fixing.
Somehow…..
COYB