Here we go here we go here we go, side by side as we sing along together…however, the only singing along at Burnley last weekend was the large Everton away following uniting in shouting their absolute disgust at our current manager Sam bloody Allardyce. Seriously though, how has it come to this?! In a week of many many rumours ranging from us looking at young sexy managers like Fonseca or Simeone (AS IF!!!), to some lad on Twitter saying everyone hates each other in the upper echelons of the Everton boardroom we really are an absolute mess of a football team at the moment if you believe the rumours I guess.  At least it's never boring. Except the actual football. That's deathly boring.
Oh my god, how funny is that image?! Zidane, Simeone and Allegri all looking at Sam like he's some sort of alien.
This week is a Champions League week, and I have enjoyed seeing teams play a sport that actually looks like association football. You know, passing to each other, scoring goals, not many long balls, you know…football. (Except PSG who looked like Sammy Lee had poured liquid Everton into their pre match Champagne). But what struck me most is that, despite their loss, we are bloody miles and miles away from Spurs these days. Just how has this been allowed to happen? Not long ago at all we were their equal. Actually, we were slightly ahead of them. And now after spending £250 million we are so far away from them, and not just in terms of the team. They actually have a new stadium nearly done. They have a great manager. I'm jealous, and i don't care who knows it.
Last week I wrote about wanting this season just to end, but a little bit of fear has creeped back into me about just where we are in the league and what is below us, and to be honest what is above us. Somehow we are not safe. Just look at the teams above us and the team just below us. Bournemouth sit just below, and now above us, Saturday's opponents, Brighton and Hove Albion. What even are we these days?
Brighton are having a cracking season for a promoted side. Chris Hughton seems a nice bloke and always seems to do a decent job wherever he is without getting a whole deal of credit. Brighton itself is a nice enough town too. I had my stag do there, and met a lovely Romanian lady who woo'd more money than my wife will ever know out of my bank account in a strip joint there. Brighton is alright.
Let's have a look at their team.
In goal Aussie stopper Mat Ryan is very decent. And one we may have had a look at if Pickford (god bless him) didn't exist.
At the back they have a player called Bong. I don't know, but I hope his first name is Billa. Lewis Dunk is a cracking centre back too, one we should probably have a look at in the summer….but I thought that about Michael Keane too.
In the middle Anthony Knockaert creates literally everything good Brighton ever do. He's a player i've liked for a long long time, but never really wanted at Everton, but maybe now I do because we are terrible. Other midfielders include the speedy Izquierdo (god knows if that's how you spell that), and apparently Steve Sidwell still plays football and he's at Brighton.
Up top Glenn Murray evades tax and scores tap in and headers. In equal large measure. Put your actual life on him scoring this weekend especially if the definitely leaked team shows Williams playing…oh no he's suspended. We might have a chance here. They also have Leonardo Ulloa on loan from Leicester for some reason.
That's Brighton. Above us in the table.
Somehow we fluked a draw at Brighton many moons ago this season when Theme Hospital Koeman was still in charge and we were all just starting to realise that things were going tits up this season. Make no mistake here, a draw will not do on Saturday. I'm not fan of calling games 'must win' but this is. Win and I reckon we'll be absolutely fine, well not fine, but we won't go down, lose and well…I don't want to think about that. So it will probably be a draw.
Everton will line up with Pickford in nets. He got some stick for both Burnley's goals last week, and rightly so, he could and should have done better on both, but he also stopped it being about 15-1 as well. I can't criticise the lad too much. He's very young in keeper terms, and the amount of pressure we constantly invite onto us he will end up making mistakes. As was seen last week.  I'd expect the same things to happen even if De Gea was our keeper.
At the back, sod it, I hope all the injured ones play in a 4. Coleman, Holgate, Funes Mori, Baines. Just because I can't stand any of the others right now.
In the middle, does it really matter? We don't play with a midfield so play who you like.
Up top, I saw the Everton media people asking if it should be Tosun or Niasse this weekend. Both would be my choice. But when do we do that? At least Calvert-Lewin is getting an England call up somehow.
That's the blues.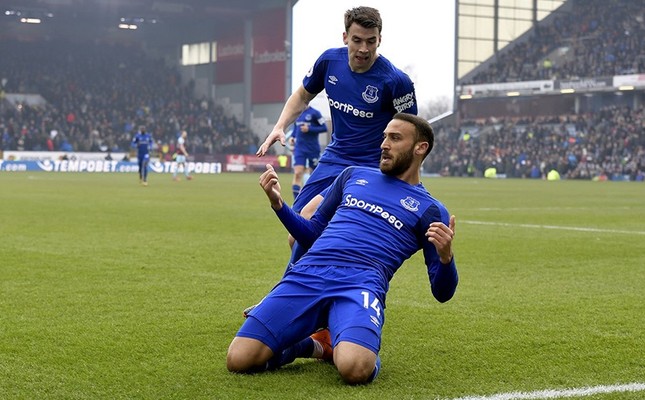 Last week we sold out our away end at Burnley, and this match has sold out too….although I saw a hell of a lot of tickets for sale on StubHub for this one. Everton fans deserve more than the actual arse we are being served this season.
Please win Everton. Please go away Sam Allardyce and Steve Walsh. I think that sums it up.
COYB