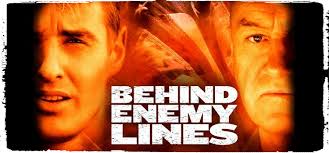 Saturday 17th August marks Everton's return to Goodison Park for another season of optimism. Last time out, we largely let Crystal Palace off the hook by not being clinical enough and ended up feeling like a point was a good result – thanks to Morgan Schneiderlin.
This weekends opponent comes in the shape of Watford. A team who were in the Europa league conversation last season and took 4 points off the blues (would have been 6 had it not been for Lucas Digne.) However, this season has started how the last one finished and Watford were beaten 3-0 to Brighton.
Check back with Come On You Blues forum later in the week to see a full match preview.
This week sees me talking to Lou, (@Louorns) a Watford fan who waxes lyrical about new Everton boy – Moise Kean.
How long have you been a Watford fan for:
19 years. First game was when I was 4 in 99 away at Sunderland. Kevin Phillips scored 2.

How have you rated your summer transfer business? Are you concerned by the lack of defensive players?
7.5/10 signed some brilliant forward players in Welbeck (If fit) broke our transfer record in Sarr and upgraded the defence with Dawson. Also signed a good prospect from City. Would've been a 10 if we signed a CB on the level of Sarr though

What do you expect from Watford in the upcoming season?
Challenge 7th. We had the best record of beating teams outside the top 6 last season picking up 47 points. Just need to perform better against the big boys

Who is the man to watch for Watford?
Sarr or Deulofeu

What sort of game plan do you expect Watford to adopt in this match?
Switch to a 433 and play on the counter. Similar to what we did at Goodison last season

Do you expect Gracia to be able to replicate the mid-season form you showed that played you into European contention?
Hopefully. We've looked questionable since the end of last season and start of this season. But I'll put that down to injuries and new signings not up to speed yet

The Pozzo Family seem to fire managers quicker than most, how bad would Watford's performances have to be for them to fire Gracia?
If we lose next weekend to you and the performance is bad – which will make it 9 games in a row where we've not looked good, questions will be asked.

Are you expecting any more from any Watford player this campaign? Deulofeu perhaps?
More from Pereyra hopefully. Was out of form last 8 months but did put in a superb performance against Wolves in the cup semi. Deulofeu has been excellent in almost every game since January


What are your opinions on Marco Silva?
Hit and miss coach. Can see him being sacked this season because of the way he handles the squad. His subs at times are poor and his attitude shown at previous clubs show he's a liability. For Everton to want to be in that top 6 – I don't think he's good enough.

How do you rate Everton's transfer window? And their chances this season?
Decent window. Kean could be deal of the decade. Lack of centre back options are worrying. Think 7th is the best you can get given your depth isn't as good as the top 6.

What Everton player would you like to see play for Watford?
Kean. Just because I'm Italian and he's ridiculously good

What is your combined XI for Everton and Watford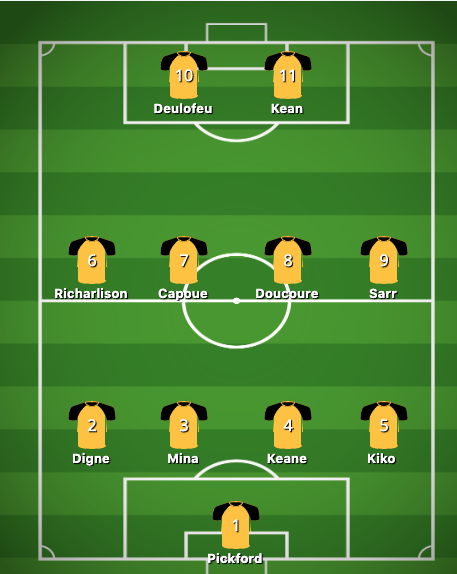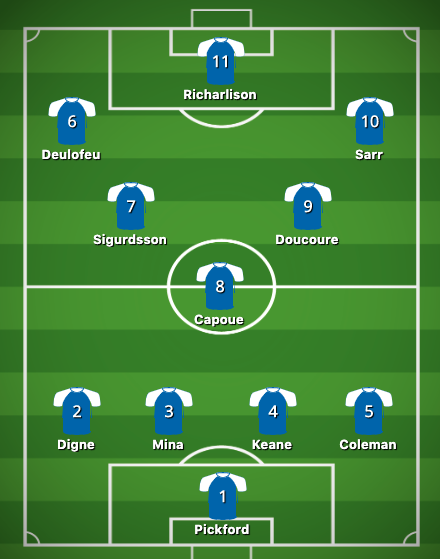 Who is the first Premier League manager to be fired?
Dean Smith.

Finally, what do you think the final score will be?
2-1 Everton
Thank you again to Lou for helping out.
Please RT and share