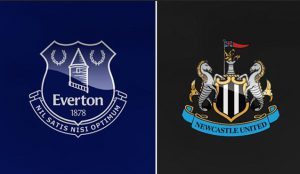 It's back! Midweek football, that is. We can have lots of negative things to say about it, but one thing you can't deny is how good it is to play under the floodlights at Goodison Park.
On paper, If we could choose an opponent to play based on previous fixtures – Newcastle would be it. However, the game isn't played on paper and we are playing a side who have started picking up valuable points and have a manager who ridicules Everton at any given opportunity.
Newcastle have quality players, no doubt about it, if they were to be relegated; Premier League clubs will be lining up to take their players. Everton even found themselves linked with Newcastle captain and talisman – Jamaal Lascelles, who at the time was my preferred centre-back target as the Yerry Mina deal was stalling, Kurt Zouma interest wasn't widely known and Michael Keane wasn't filling me with confidence (Humble pie served hot, with custard).
This previous game week wasn't pretty for either side; Newcastle slumped to a turgid 3-0 defeat at home to West Ham (we know the feeling, lads) and Everton have added to the everlasting compilation of 'Everton That' moments in Merseyside Derbies.
If you want to enjoy a better match preview – our man Ijjy has your back here: http://comeonyoublues.com/everton-vs-newcastle-united-wednesday-5th-december-745pm-ko/
We caught up with two Newcastle fans ahead of the midweek fixture. They go by the Twitter handles @TaylorandBesty and @NUFCThreatLevel:
1) How long have you been a Newcastle fan for?
NTL: All my 37 years and a hairline to prove it. The local life sentence.
TAB: I started going to matches in 1992 aged 10. My first game was a 3-2 home win v Southend in the first division.
2) How have you rated your season so far?
NTL: While I appreciate this isn't going to be the peak spot to talk up the bloke, as long as Rafael Benitez continues to keep this club out of the bottom three it can be deemed a good season. While I appreciate last season we finished 10th, the club has continued to drag its feet under Mike Ashley as other sides kick on, and it truly terrifies me if this was relegation season number 3. They might be dull and shut up shop against certain sides and in turn that leads to awful matches to watch, but needs must. As I type this we are 15th in the league. If come May there's 5 clubs worse than us that's a great season's work.
TAB: It's been disappointing to not pick up more points, however, we've thrown away winning positions against Man Utd and others. Defensively we look fairly solid but our attacking line is slow and profligate.
3) How have your new signings bedded in?
NTL: The permanent signing of Martin Dubravka in goal has been the highlight, there's a feeling he could play for most clubs in this league. Yoshinori Muto came from Mainz and only his recent injury is keeping Ayoze Perez in the team in my opinion, he seems to at least chase loose balls which you think would be a prerequisite for a grown, adult footballer on thousands of pounds a week but then again you've never seen some of the shite we've had up here lately. Rondon arrived and clearly looked like he'd suffered from a lack of pre-season at WBA, a Championship club who we somehow couldn't out-muscle financially and in turn, managed to nab Dwight Gayle off us… It's hard not to keep having a pop at Mike Ashley so we'll leave it there. Rondon has started scoring in the league and as is pivotal to how we play through to January, he's basically the one striker we have that isn't built like a 15-year-old girl or shoots with his shins. Fabian Schar (£3m Deportivo) and Federico Fernandez (£6m Swansea) both have had promising starts, but the loss to West Ham on Saturday has put thrown the brakes on that hype train. Right now Jamaal Lascelles can't be guaranteed to walk back into this team, and that's the best thing you can say about them right now. Kenedy rejoined on loan and is either brilliant or anonymous, there's rarely an in-between. He constantly looks tired after the 70-minute mark and he's let a child draw all over him with a pen, but now I'm just getting picky. Ki from Swansea for free has been instrumental in our recent form. A midfielder who doesn't seem to panic on the ball. Part of me knows deep down that it's because he doesn't understand the 20,000 Geordie accents screaming at him to knock it long, but I'll take his calm simple passing for now. As we've played better, he has too. Jonjo Shelvey has started the past couple games on the bench after injury and that's been mostly down to Ki's form.
TAB: Schar and Fernandez are both solid CBs with decent experience and seem to have settled well, Rondon and Muto have had fitness issues but are capable. Our best signing has been Martin Dubravka, who's stats are you there with the best keepers in the league.
4) Who's the man to watch for Newcastle?
NTL: It's Ki or Shelvey. Whichever one plays. They'll dictate whatever we do. Kenedy has a smart flick in him but with Matt Ritchie suspended and doubts over the fitness of Paul Dummett and if Javier Manquillo truly understands how football works we could find Kenedy in a more withdrawn defensive role.
TAB: Kenedy has the ability to change a game in a heartbeat but his application is sometimes not what it could be. We also need Jonjo Shelvey to be firing as he is the metronome of the team when he plays.
5) What player hasn't impressed so far and you don't want to see play this weekend?
NTL: Each time I write off Ayoze Perez he scores. Let's just say that's your warning.
TAB: Javier Manquillo is being used as an LB due to Paul Dummett's injury, however, I'd like to see us go 3 at the back like we did v Bournemouth so he doesn't have to play.
6) How are you expecting this game to play out?
NTL: We'll dig in. It wouldn't surprise me if we went back to the 5-man defence used in the win away to Burnley recently. Injuries will probably dictate how we set up. We have to score first, I always think this. If the opposition take a lead a draw would be a great result for us, and I absolutely hate thinking this about almost any game we play now. You'll come at us, we'll try to hit you on the counter. We'll try to slow it down best we can with possession.
TAB: Historically we struggle at Goodison, I honestly don't see a change in fortunes for us this time around. However, if we play at the level we are capable of we could nick a point or maybe even more.
7) What are your opinions on Marco Silva?
NTL: I think he's very smart. I rate him higher than most in this league, he almost kept Hull up which would have been a minor miracle and I've no idea what happened at Watford towards the end but it looked a petty tantrum all round at best. Seems to be part of the smarter thinking coaches and the polar opposite of the angry, corrupt, neanderthal massive head coach he followed on for at your club. I want it noted we definitely knew that Sam Allardyce didn't know what he was doing a solid ten years before it became mainstream. I could talk about Allardyce's failings all day but once you've had a few months of the live show you try to forget that throwback to the '80s as quickly as possible.
TAB: I like the guy, I was impressed with him at Hull and I think he's a very promising young manager. He's still learning but his potential is clear to see. Also, he reminds me of the guy who hosts Man Vs Food
8) What Everton player would you like to play for Newcastle?
NTL: I'd say Gylfi Sigurdsson if I could be arsed Googling that name everytime I needed to talk about the bloke on Twitter. He's probably what we lack most, something creative that looks to get ahead of the midfield, create or score. If he's ever available on a free and willing to take a massively disrespectful wage you can just drop him off at any Sport Direct. Failing that Pickford to see if people's heads would explode.
TAB: I'm a fan of Gylfi Siggurdson. I believe we scouted him a lot when he played in Germany and when he first moved to England. I like a player who's prepared to have a go at goal from all kinds of angles and he takes a great dead ball.
9) What should Everton expect from Everton in this match?
NTL: Knowing Everton fans as I do, and that's mostly through whatever pops up on social media, if they don't beat Newcastle they'll be very disappointed. Especially after the Liverpool loss failing to bounce back might be a sign of it deeply effecting them, the Newcastle fans will target Pickford on the back of this. As a Newcastle fan if it's 0-0 and the grumbling starts in the home end that's delightful. I'd set discontent opposition home fans grumbling as my ringtone I love it so much. It's just nice to hear other clubs doing it asides ourselves.
TAB: I think we'll give you possession and try and hit you on the break. Benitez seems to try and keep it tight early on and push more into the game as the opposition tires.
10) What are your thoughts on Rafael Benitez?
NTL: Keegan > Robson > Rafa. The fact he is bracketed with the former two is high praise in itself. Any man seems willing to stand up in some way to the board at this club is a hero. It might look overblown on the outside but there is a genuine love from the majority who support the club. He takes footballers and in the most part makes them more intelligent out there on the field. For example, I watch Newcastle United and on some days they can defend now, and I've been waiting around 15 years for it to happen regularly again. I have no idea why Rafael Benitez is here, I have no idea why he cares as much when he could easily get a much bigger job elsewhere on equal pay and I have no idea if he'll be here next August. I'm just enjoying it while I can. Titus Bramble and Jean-Alain Boumsong just running into one another have ruined more weekends than I care to remember and this whole 'tactical awareness' thing of late feels like karma.
TAB: I feel sorry for Rafa. He has a vision and an ambition for this club with isn't matched by the owner. The tenth place we achieved last season was remarkable considering the resources given to him. I like him a lot as a man and as a manager, it will be a great shame for NUFC if he leaves next summer.
11) What are your opinions on Everton's proposed move to Bramley Moore Dock?
NTL: Christ almighty lads get it done already. I don't know if this is a massive laugh you've been having all these years but there's an open air 1920's themed museum down the road from Newcastle that feels more high tec than that Goodison Park away end. It's future, isn't it? These fancy new stadiums. It's a shame you'd be moving away from what you might consider 'home' but rebuild Goodison you'd probably have to go cap in hand over to Anfield for a year at least and beg to play a season there. I can't imagine that being a viable option. If I was you I'd probably stop reading this now and grab a shovel and start work. It's long overdue. Chop Chop.
TAB: I understand some of the concerns fans have over the move. Having visited Goodison a number of times it's one of the few old style grounds left that retains that vibe and atmosphere. However, I agree that some parts of the ground are in desperate need of modernisation. If Everton wants to continue to challenge in the PL then updating the stadium has to be a priority.
12) Build your best XI merging both Newcastle and Everton
NUFC Threat Level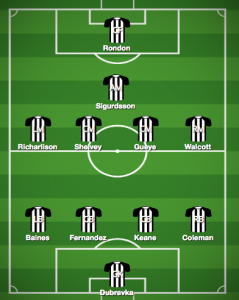 COYB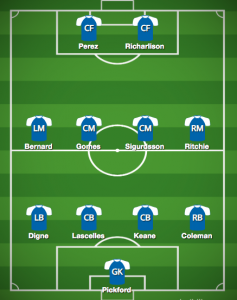 13) How long do you think you can hold on to Benitez?
NTL: If he's here at the start of next season it'll be a miracle, he can only put up with so much from the ownership. Where we'd go from there under Ashley is anyone's guess. But it's safe to say his media pals would be championing a returning hero in Sam Allardyce, which would probably have the likes of me strapping on the concrete wellies and walking straight into the Tyne. Plus there's an everlasting terror that Joe Kinnear will always be available as he can't find work. The walking, talking doomsday scenario.
TAB: The only way we keep hold of Benitez is if a new owner comes in before next summer. If Ashley doesn't sell then Benitez will go at the end of his current deal.
14) What aspects of Everton's performances thus far have impressed you?
NTL: I'm not really good at saying nice things about other teams. But what I will say you're a much better-looking club under this manager. You have got an owner, or at least the bloke with his name on the door is throwing big money, his own and that the club has generated in the new age of TV and competition money, at the project and as a Newcastle fan I am incredibly envious of this. At Newcastle, we operate up to a glass ceiling put in place by the ownership, and until Ashley is removed Everton are one of many clubs that are forging a gap between us and the progressive clubs. Now if I can admit that through gritted teeth then you all have to say something nice about Newcastle United.
TAB: I like Everton's pace and power, you have some big strong lads in that squad coupled with some very nippy attacking options. A good mix of experience and youth and a manager who wants to play decent football.
15) Final score?
NTL: The views expressed above aren't the general view of the entire fanbase, Ant or Dec. Be kind. 1-1.
TAB: Unfortunately 2-1 to EFC
COYB: 1-0 Everton – Bernard