Everton take on Cardiff in the fan favourite time-slot of Saturday 3pm.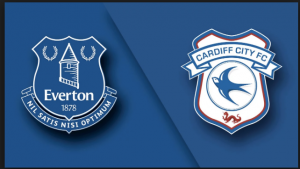 Cardiff, managed by the enigmatic Neil Warnock, were favourites to be relegated at the beginning of the season, however, after picking up some points recently, there may be a cause for optimism.
Everton's home form of late has improved and we have become much better value; although the likely absentees of Andre Gomes, Gylfi Sigurdsson and Ademola Lookman may provide Marco Silva with a selection headache he didn't quite want. I'm a massive advocate of letting the players return when they are fit and healthy enough – especially with Anfield being the next game after this one.
Marco Silva has hinted previously that 3 central defenders could be an option, but with the 4-2-3-1 formation paying dividends thus far, he hasn't opted to change. However, with Mina replacing the ineligible Zouma for the away game at Chelsea, we have the 3 central defenders all vying for a place and a formation reshuffle imminent.
My thoughts on the match are pretty straightforward – score early, and this could be a comfortable 2-0 win. If we let Cardiff settle, then we could see a very dry 0-0 draw or 1-0 loss. I say that because, we still haven't clocked on to how to break down stubborn sides.
I do fancy Bernard to have a great game, though.
I spoke to the charismatic Cardiff city fan – Tony Rivers (@tonyrivers1927) to gather some of his views ahead of the match this weekend:
1) How long have you been a Cardiff fan for?
I was taken to my first Cardiff game in 1982, since then I count myself lucky that I've followed us all around the country in all four divisions. We spent a long time post-2003 in the championship but before then many years in the old fourth then league one ( division 3 in old money ) & two
2) How have you rated your season so far?
Everyone expected to be in a relegation dogfight but some didn't think we'd have a win on the board yet so we've exceeded some expectations! It was always going to be an uphill struggle but aside from the top six every other game we've played so far could have gone either way. In that well known ' mini league ' bottom half there's everything to play for. Our late winner against Brighton could prove pivotal. Hopefully if we're still competing in January then we'll add to the squad. They'll have to
3) How have your new signings bedded in?
Settling in ok. Josh Murphy from Norwich just edges it as our stand out signing. We really missed him in his injury lay off. An old style wide man who has a great knack of ghosting past defenders as if they're not there thanks to his blistering pace. Already scored some crucial goals. Victor Camarasa on loan from Real Betis has also added a lot of technical ability to our midfield. Plays with a swagger and has linked up well so far. Harry Arter has bedded in well and provides the bite needed in any midfield. Loves a tackle! A fans favourite. Bobby Reid has worked his socks off and will be an important part of the squad
4) Whose the man to watch for Cardiff?
Quite possibly the fullback we've got playing centre-forward. Callum Paterson. Up top playing as a classic number nine, he's big, strong and will possibly be our focal point on Saturday. He's our very own Duncan Ferguson if you will..
5) What player hasn't impressed so far and you don't want to see play this weekend?
Good question. Unfortunately a player the club and fans had high hopes for was the big  Dane Kenneth Zohore. He had a spell where he was virtually unplayable but since he became courted by several top-flight clubs and bids were turned down he's been a different player. Apparently, his week in week out attitude leaves a lot to be desired and it just goes to show that a defender now his centre-forward slot. You've got to ask serious questions of yourself there
6) How are you expecting this game to play out?
Another hugely difficult assignment for us. Everton have started getting that much-missed consistency lately and we know we're up against it, but I think we're capable of frustrating you, getting Gwladys Street on your back and nicking a point 🙂
7) What are your opinions on Marco Silva?
I think he'll prove to be a decent appointment and is already stamping his philosophy on the squad, although like one or two Evertonians I know am surprised Roberto Martinez wasn't given long to turn things around before the Koeman tenure
8) What Everton player would you like to play for Cardiff?
Retired now but I always admired Leon Osman and often thought what a great signing he would have been for us. From the Everton ' Dogs of War ' tradition. Always gave 110%, led by example and would run through brick walls for the badge. A side could have all the technical ability but everyone needs a leader like that . Our kind of player
9) What should Everton expect from Cardiff in this match?
We're often accused by the so-called experts of ' route one ' but our 16 pass move for our first goal against Brighton showed we've got more in our locker, saying that at Goodison expect a tenacious, physical side where set pieces could cause you problems in and around the box. We had game plans going to Tottenham and Anfield of keeping things tight from kick-off but it went out of the window conceding early! You're massive favourites obviously but I think we'll give you a better game than both Fulham and Brighton did
10) Cardiff have gathered some points recently, does that give you more confidence in staying up this season?
Definitely. As I see it the battle in the bottom half is anyone's. I think we've won two, drew two and lost one so far in the bottom half so we won't throw the towel in just yet
11) Neil Warnock is famous for getting teams promoted. How do Cardiff fans feel about him?
He performed a miracle to get us up in 18 months from a championship relegation battle. He'll go down in Cardiff City folklore. With a few more quid in January I think he's capable of one more miracle this season. There is always rumblings of discontent because of where we are and Warnock's previous record in the top flight, but as this is going on I think more importantly is the club are becoming financially stable again and there's a good academy system being developed at all ages. Some say we maybe fall short of a technical team / scouting network at the club but that's something that could be easily addressed
12) What three teams do you think are getting relegated this season? And what do you rate Everton's chances of finishing top 6?
Huddersfield, Fulham, Burnley. There could be one club at the moment who look to be cruising that eventually gets sucked in as often happens. The more the merrier!
I think top six for Everton is a distinct possibility but maybe one season too soon. Recent results are boding well for you though and Silva could prove to finally be the man for the job
13) Final score?
My heart says 1-1, my head says you'll edge it 2-1.
Thank you